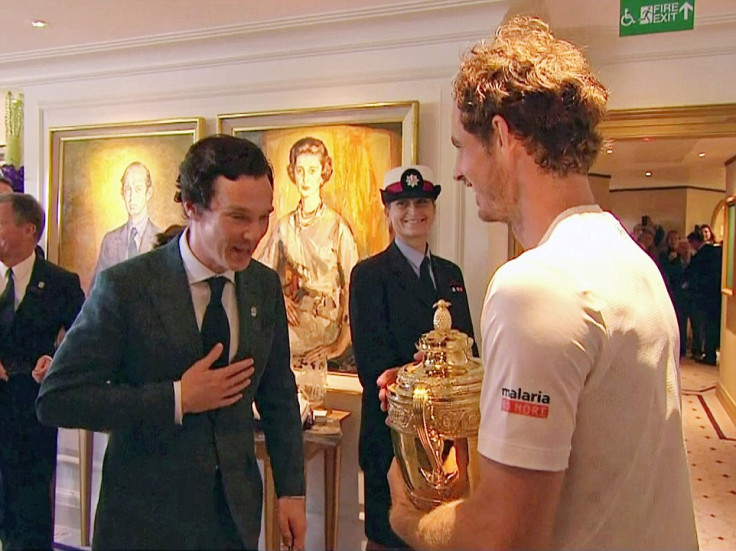 The men's singles Wimbledon 2016 final attracted a league of celebrities like moths to a flame as the Duke and Duchess of Cambridge to the likes of US chat show host Ellen DeGeneres beheld Andy Murray win his second title at SW19.
Following the Scottish 29-year-old's centre court victory against Canadian Milos Raonic on Sunday (10 July), Murray rubbed shoulders with a few familiar faces for the celebrations, including quintessentially English gent and Sherlock star, Benedict Cumberbatch.
In a video posted by Wimbledon on Facebook, a star-struck Cumberbatch in a dapper suit greets the tennis champ with a short bow while an exhilarated Murray, still in his tennis whites, also expresses his appreciation for the actor.
Murray gushed: "I'm a massive fan, a huge, huge fan," before Cumberbatch replied, "Likewise, likewise – thank you. [...] You were brilliant, it was really inspiring to watch."
Shaking off the compliments, Murray then asked the 39-year-old Star Trek: Into Darkness actor: "What are you up to?" as Cumberbatch claimed he's still working on Sherlock. Murray excitedly showcased his trademark fist pump in delight and queried, "How many episodes?"
Slightly flustered, Cumberbatch coyly divulges we'll be expecting three episodes from the BBC1 crime drama. The quick chat hastily moved onto Murray's new daughter Sophia with wife Kim, who was born in February.
The tennis player swiftly manoeuvred his way through the star-studded room and was congratulated by Prince William and Kate Middleton on his second Wimbledon win, along with London's Mayor, Sadiq Khan.
Murray soon changed into a tuxedo and attended The Wimbledon Champions Dinner held at London's Guildhall accompanied by a dazzling Kim in a bejewelled wrap gown by British designer – and Middleton favourite – Jenny Packham.
Before that the father of one gave fans a treat via his official Facebook page by posting a picture of himself in an ice bath, topless, holding his shiny gold trophy. He captioned the shot: "Holding this bad boy makes the ice bath that little bit more bearable".