Combat sport is littered with fighting brothers. Side-by-side, Vitaly and Wladimir Klitschko dominated boxing's heavyweight division for a decade. In the UK, the Walsh and Smith families continue to challenge for world titles. Antonio Rodrigo and Antonio Rogerio Nogueira have racked up 76 professional mixed-martial arts fights between them while Nick and Nate Diaz are synonymous with the UFC brand.
But a brother and sister combo? That's a rarity. In the world of ONE Championship, Angela and Christian Lee are breaking the mould when it comes to fighting siblings.
Of the two, Angela has taken the first step to stardom. At just 19, she became MMA's youngest world champion when she defeated Mei Yamaguchi to win ONE's atomweight title after five gruelling rounds in May 2016. With her disarming smile and humble manner, she could, at a glance, pass off as a regular 20-year-old. But in reality, she is the undefeated and undisputed star of her sport in Asia.
Christian is two years younger and was until last August also undefeated, until he was submitted by Martin Nguyen. Last month, he responded emphatically with a TKO victory over Jianping Wan at ONE's Kings of Destiny card and remains one of the promotion's brightest featherweight prospects.
Brother and sister, training partners and best friends; Angela and Christian are one of MMA's most unique packages.
"It's great having my sister in my corner and I'm always in her corner," Christian told IBTimes UK. "We are always sharing knowledge with each other, every day we are in the gym together, pushing each other and helping each other become better fighters."
Angela has grown to become the face of ONE Championship and last year became one of the highest earning female fighters in the world. according to ONE chairman Chatri Sityodtong, she already makes more than her UFC counterparts Cris Cyborg and Joanna Jedrzejczyk. Despite the superstar status, she still lives at home with the people who have helped her reach the top; her father and coach Ken, her mother Jewelz, younger brother and sister Adrian and Victoria and her life-long training partner Christian.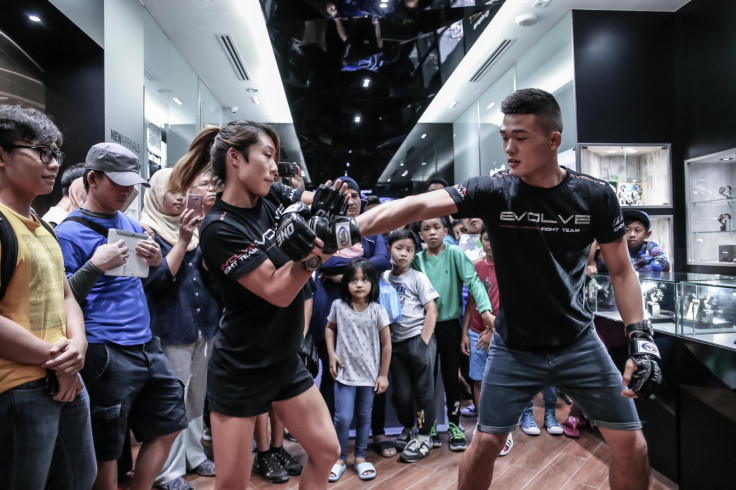 "We keep a very open dialogue," Christian continued. "Just the other night, me and my dad were working with Angela, both giving our input on what she is doing well and what she can improve on. We don't let any egos come into play so when we give each other feedback, we know it is just honest opinion of how they can improve.
"She [Angela] hasn't changed. I think the thing that helps us most is the fact we have such strong family support. We have our mom and dad in there who keep us grounded. She has stayed true to herself and that's what makes her a true champion."
While Angela's rise has been unstoppable, Christian has had to bounce back. He stormed to five straight victories – all finishing within the first round – before he was brought crashing back down to earth last April, when he was 'put to sleep' via guillotine choke in the first round against Nguyen. It momentarily halted the 18-year-old's march towards championship gold but it was something he quickly dismissed as a blip, rather than a major setback.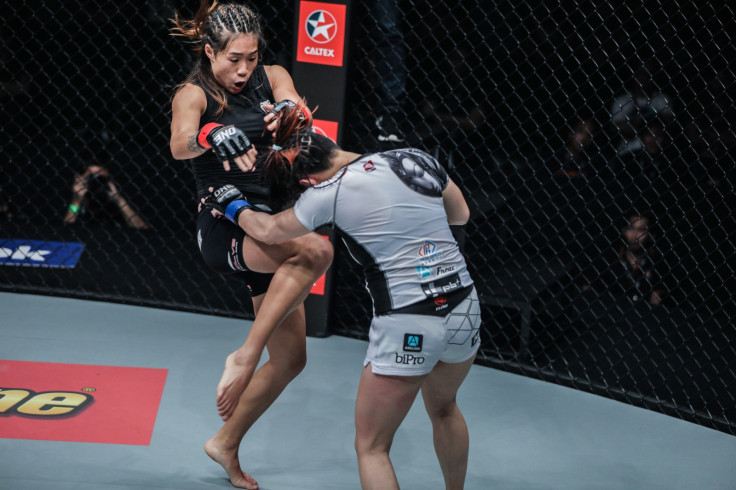 "The first fight after your first loss is crucial, it's either going to make you or break you. You only have once chance to come back and show the world it was just a fluke. I feel like on another given night I could have taken out Martin, I even felt like that later the same night. It was just a strategical error, one that will be fixed."
Helping him point out what that strategic error was of course Angela.
When Angela is in fight camp, Christian is dedicated to that fight and that fight alone. When it is Christian's turn to enter the cage, Angela is solely committed to being in his corner on the night. It is the reason the siblings do not fight on the same card, a decision ONE respect. Of course, they are open to staging a show starring both the Lees, but it is ultimately a decision that rests with them.
The prospect of seeing a loved one hurt is something no one wants to witness. That changes somewhat if you are a professional fighter, where the risk of harm is all part of the game. Like any brother, Christian is protective of his sister and admits her first fight inside the cage was difficult to watch. The nerves are still there now, even eclipsing those he feels before his own fights. But knowing no one else in ONE can stop Angela has helped ease these fears somewhat.
"Her first fight, she was 18 years old, I was 16 in her corner. We had been competing together our whole lives; stepping up for ONE was nerve-wracking but it has only gotten easier since then.
"Every fight I'm still crazy nervous, I feel more nervous watching her fights than when I am fighting myself. The more we train, the less nervous you feel, as she progresses as a fighter I don't feel as nervous as the first time watching her fight as I know she is just on another level to these girls."
Angela will make the second defence of her atomweight world title against Brazilian Istela Nunes at ONE's Dynasty of Heroes card in Singapore on Friday (26 May) where Christian will once again in her corner. Having put his only career defeat behind him, he now has his sights firmly set on adding another ONE world championship to the Lee family.
"That's the goal. Every fight I'm working to improve my record, to gain more fans. If I keep winning, if I keep taking out the division, there is only going be one person left. I can't set a date, but I'm working on getting there."