Has ONE Championship declared victory over UFC in battle for MMA supremacy in Asia?
ONE's recent card in Philippines amassed record-breaking television figures.
"We're the 800lb gorilla in Asia, they are just a fly," says ONE chairman Chatri Sityodtong.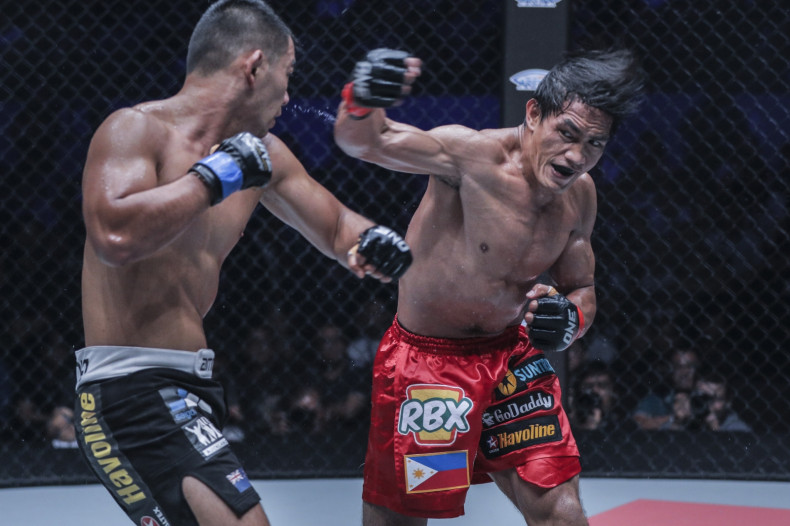 ONE Championship believe they have now won the war against UFC for mixed martial arts (MMA) supremacy in Asia after their booming start to 2017.
April's Kings of Destiny card held in Manilla, Philippines, broke new records for the Singapore-based organisation, becoming the most-watched MMA show in the country's television history. 20,000 watched on cage-side as hometown hero Eduard Folayang defended his lightweight title against Ev Ting, with millions more keeping up athome.
With numbers still the most crucial measuring stick of success in the fight game, ONE's Manilla card dwarfed UFC's best offering from last year; UFC 205, when Conor McGregor became the promotion's first ever double champion with victory over Eddie Alvarez.
Taking into account their upsurge in TV ratings, broadcasting hours and social media engagement, ONE estimate their product is now 10 to 50 times larger than UFC is in Asia, depending on the country.
So is this the moment they can declare victory?
"Any metric shows that ONE is Asia's largest sports media property full stop in terms of reach. It's not even close anymore. A few years ago you could say it was a race, today you can't," ONE Championship chairman Chatri Sityodtong told IBTimes UK.
"In terms of television audiences in Asia, UFC's biggest show last year, headlined by McGregor vs Alvarez, garnered between a 6% and 7% television rating share. Our highest [taken from Kings of Destiny in April] was 26 percent [according to Nielsen ratings]. It's not on the same scale anymore."
While ONE's product has been bolstered by the acquisitions of high-profile names like Ben Askren and Bibiano Fernandes, their mantra of developing home-grown talent for a local audience remains key to their success, according to Sityodtong.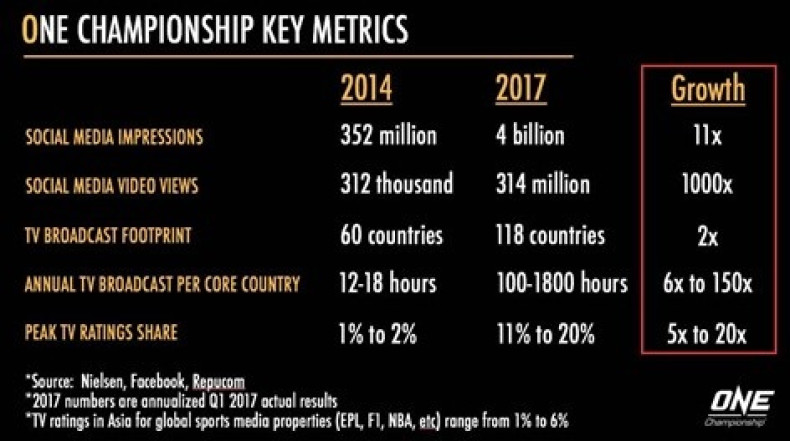 "The reality is our product resonates with Asia because of our values and our celebration of true martial arts. Those values of humility, courage, discipline and honour. What UFC does doesn't resonate in Asia."
UFC has in recent years relocated its Asian office from Beijing to Singapore and the promotion has revised its efforts on the continent somewhat with a comeback card scheduled in Singapore next month after a 19-month hiatus. But ONE feel those efforts may have come too late with their grip tightening every day, as Asian audiences become more accustomed to seeing their product every time they turn on the television.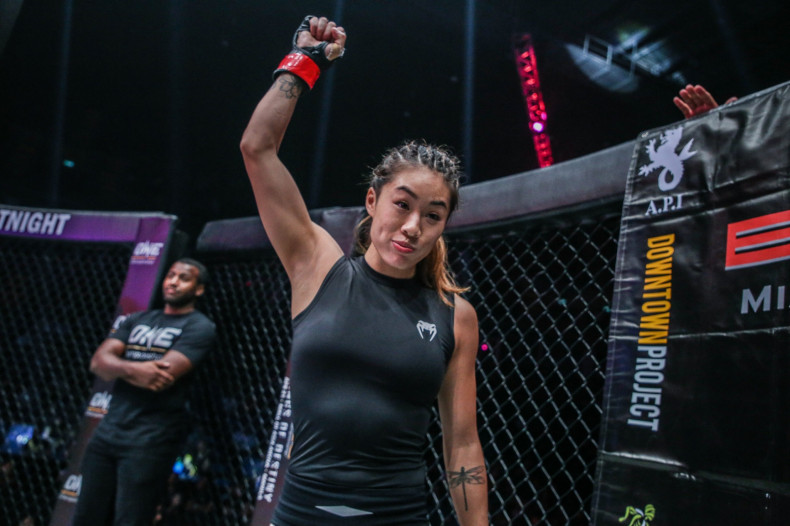 "ONE Championship is now broadcast anywhere from 100 hours to 1,800 hours per year per country in Asia. The last six months, we have really dominated the airwaves. Numbers are everything in this business. Television ratings, number of hours of content per year, number of sponsors, number of events, stadium attendances, it's everything.
Our ratings are dominant. You can say we the 800lb gorilla in Asia and they are just a fly."
ONE's next card is back where it all began in Singapore for Dynasty of Heroes on 26 May. Angela Lee, MMA's youngest MMA champion will defend her atomweight title for the second time against undefeated Brazilian Istela Nunes. The card is co-headlined by Ben Askren's welterweight title defence against rising Malaysian star Agilan Thani.