With her million dollar smile, legions of loyal fans and a successful acting career under her belt, there is no denying that Mexico's First Lady Angélica Rivera is glamour personified.
So it's not surprising that the Duke of Edinburgh was captivated by her when he met the former actress and her husband President Enrique Pena Nieto during a state visit to the United Kingdom. The duo could be seen in deep conversation, with the 45-year-old star laughing repeatedly as he introduced her to the greeting line on the Royal Pavilion.
Thanks to the Duke's discreet charm, Rivera, whose sun-kissed skin is accustomed to warmer climates, appeared to forget the chilly March conditions.
With an obvious sparkle in his eye, the 93-year-old royal oozed the same level of coolness of a Lothario half his age.
Rivera, who was one of Mexico's biggest soap stars before she retired, catapulted to fame after appearing on cut-price telenovela Dulce Desafío in 1989. She is best known for playing scheming Silvana in the enormously popular telenovela Alcanzar una estrella II in 1991.
The mother-of-three, who has often been compared to the former French First Lady Carla Bruni, looked chic in a white court dress, with black heels and matching fascinator.
The Duke was joined by the Queen, politicians and dignitaries at the on Horse Guards Parade at the start of the three-day state visit. Mexico's first family appeared to enjoy every moment of the event, which included a royal salute of 41 guns was fired in nearby Green Park by the King's Troop Royal Horse Artillery upon their arrival.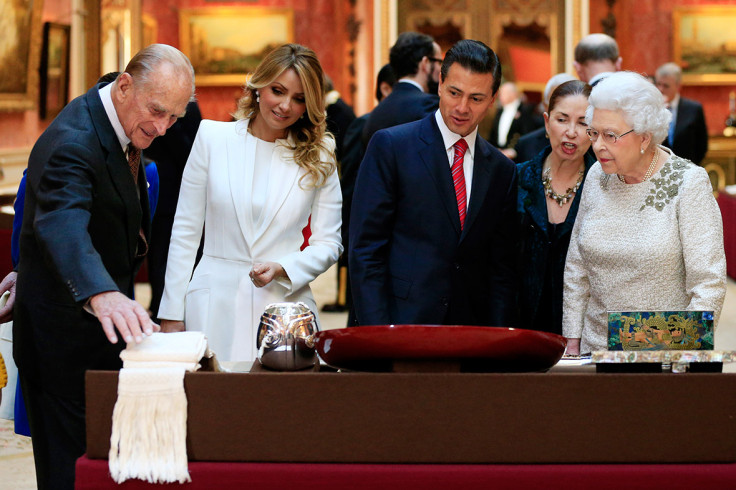 Meanwhile, human rights campaigners are using Nieto's visit to highlight what Amnesty International UK has described as "out-of-control" torture in Mexico. His political career has not recovered since the disappearance of 43 students.
The embattled president's leadership was also called into question at the Oscars when Mexican film director Alejandro González Iñárritu said: "I pray that we can build the government deserve" during his Best Picture acceptance speech.
"You can expect the prime minster to raise concerns that have arisen with regard to human rights and the judicial system in Mexico, "Cameron's spokesperson said.