Angelina Jolie branded 'shameless' by angry fans as she goes braless to meet Archbishop of Canterbury
The UNHR special envoy met the Anglican leader to discuss issues of sexual violence and the refugee crisis.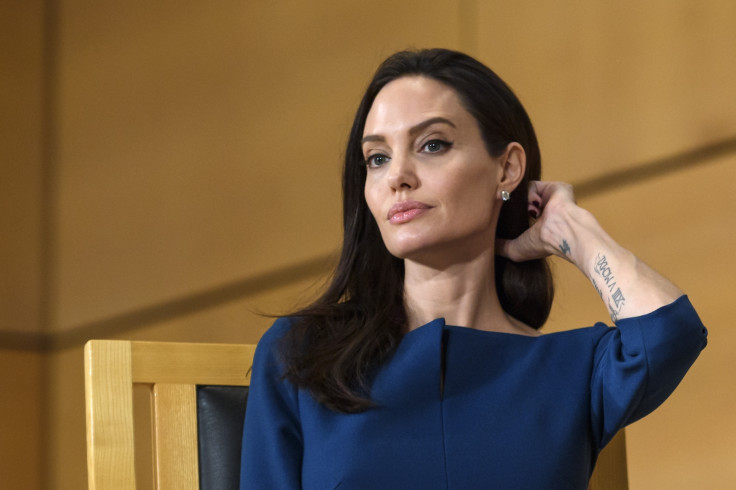 Hollywood star Angelina Jolie's fans have expressed their concern over the actress' bold style statement when meeting the head of the Church of England.
On Thursday (16 March), the 41-year-old actress sat down with Justin Welby, the Archbishop of Canterbury, to discuss pressing issues; unfortunately, it was her alleged braless look that grabbed eyeballs sending Twitter into a meltdown.
Fans shocked by the actress' daring outfit began criticising her soon after her pictures from the meeting were tweeted by the Anglican leader.
"Privilege to welcome UNHCR Special Envoy Angelina Jolie. Discussed refugee crisis, South Sudan and prevention of sexual violence in conflict," the archbishop had captioned the pictures.
"She needs a bra. Looks like she could poke someone's eye out. How embarrassing!" a shocked viewer wrote on Twitter. Another user mockingly asked the archbishop to maintain his focus, "Eyes up, Archbishop!" the tweet read.
One of the angry tweets branded her "shameless" while another furious tweet said: "Angelina Jolie is a trick ass ho in this pic. You are meeting religious figures, wear a goddamn bra."
Jolie met the Archbishop to discuss topics such as sexual violence, the refugee crisis and South Sudan. However, on social media at least, the focus was on her clothing — a full-sleeved grey sweater and an ivory-pleated skirt.
Welby, on the other hand, only had good words for the global star. "The role of the U.N. Secretary General's Special Envoy on Refugees, Angelina Jolie Pitt, is one that has been extraordinary," he said.
"What she said just now sums up so beautifully the issues we are facing, and puts it so precisely in terms of the challenge that there is. It's wonderful that she has committed her time, her energy, and has taken great personal risks in order to be able to speak authentically as to what she's done."
Take a look at some of the reactions on Twitter to Jolie's meeting with the archbishop below:
© Copyright IBTimes 2023. All rights reserved.