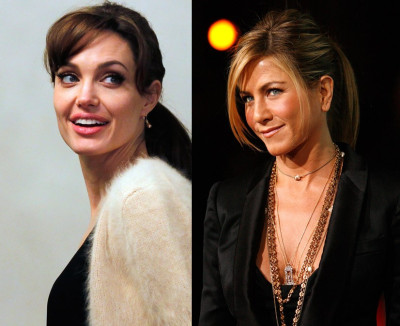 Although Hollywood star Brad Pitt's marriage to actress Jennifer Aniston is long over, comparisons between her and Pitt's current wife, actress Angelina Jolie, never seem to die.
Worse still, Pitt actually fanned the flames, when, in an interview with Parade magazine, he said: "I spent the '90s trying to hide out, trying to duck the full celebrity cacophony. I started to get sick of myself sitting on a couch, holding a joint, hiding out. It started feeling pathetic. It became very clear to me that I was intent on trying to find a movie about an interesting life, but I wasn't living an interesting life myself. I think that my marriage had something to do with it. Trying to pretend the marriage was something that it wasn't."
Pitt also said that having Jolie as the mother of his children was the best thing he could do for them.
This was enough to set Aniston on fire. In response, she was quoted, in an interview with Us Weekly, as saying that her ex-husband's remarks about their marriage were rude and inappropriate.
The rivalry doesn't stop with Pitt. Apparently, Jolie has been a "big fan of Justin Theroux [Aniston's current boyfriend and a Hollywood screenwriter and director] for many years," and "is trying to set up a project in which she and Justin can work together," one of Jolie's friends is reported to have told In Touch.
Aniston shot back, warning Jolie through intermediaries to "keep your hands off him!" It appears Aniston isn't ready to let go of another man.
Either way, the world can't seem to get enough of these two gorgeous women.
Start the slideshow to find out who is the hotter of the two.