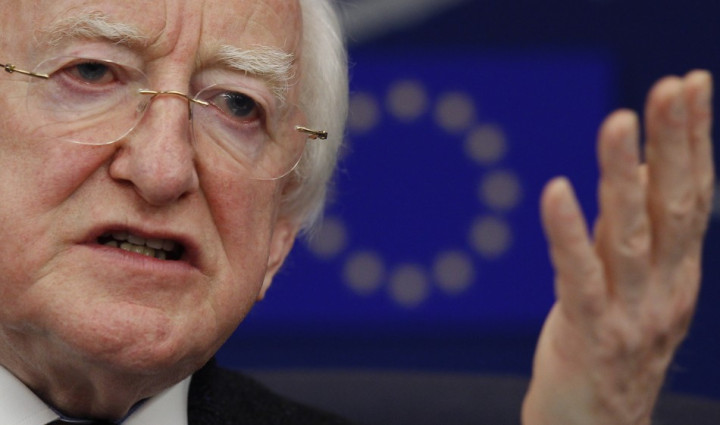 Ireland's President Michael Higgins has slammed the "greed and recklessness" evinced in secretly recorded phone calls between former executives at Anglo Irish Bank, conducted prior to the bailout that brought the country's economy to its knees.
The former Labour Party minister and long-time activist told a community garden party at his Dublin home that the phone calls demonstrate the sort of attitudes that caused Ireland's previous economic model to fail.
"This week, voices from the past have been heard which serve to highlight behaviours and attitudes at the very root of that failed economic model. They do not make for easy listening," Higgins told attendees.
"But let us be certain of one thing: these are not the voices of the people of Ireland; the attitudes they reveal are not shared by the people of Ireland; the behaviours they reflect are not characteristic of the people of Ireland."
In 2008, Ireland's government offered a blanket guarantee to its banks, which had fuelled a massive property bubble with aggressive lending practices before the credit crunch began.
In 2010, Dublin had to accept a €67.5bn (£88bn, $58bn) bailout from the European Union and International Monetary Fund, as the cost of rescuing the country's banks reached €64bn overall. To pay the massive bill, Ireland's population had to endure painful austerity measures.
"The people of Ireland, who have borne the brunt of a financial crisis not of their making, are shocked and dismayed that a culture of greed and recklessness emerged in some of our institutions - a culture which was not in keeping with our core values as a nation."
The statement comes on the same day that former Anglo Irish chief David Drumm apologised for the language and tone used on phone calls that were secretly recorded between AIB's head of capital markets, John Bowe, and director of retail banking, Peter Fitzgerald.
However, much like Bowe and Fitzgerald, Drumm stopped short of apologising for the calls' contents and specifics.
Across a number of the phone calls heard by IBTimes UK via Ireland's Independent newspaper, Bowe and Fitzgerald laughed, sniggered and mocked the authorities that were preparing a bumper rescue package.
Former CEO David Drumm was also on one of the calls.
When Bowe was asked by Fitzgerald on how he arrived at a figure of €7bn for central bank aid, he replied: "Just, as Drummer [David Drumm] would say, 'picked it out of my a**e.''