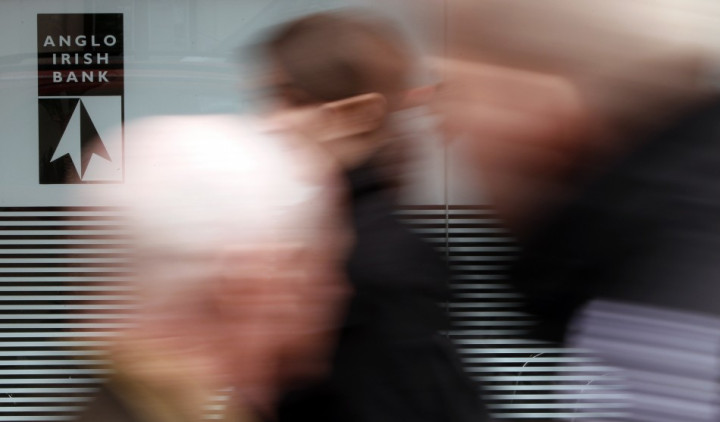 Ireland's central bank will investigate whether secret phone call recordings between Anglo Irish Bank executives prior to receiving a state guarantee and huge bailout contain evidence that the bankers deliberately misled the government and regulators about the financial health of the group.
The central bank said that it was working with police to investigate whether the executives had broken the law by giving false or misleading information.
"The central bank is carefully studying the various transcripts emerging. This is something that is viewed very seriously," it said. It would not go into more detail.
Ireland's Independent newspaper released a set of secret recordings on its website between the now defunct AIB's head of capital markets, John Bowe, and director of retail banking, Peter Fitzgerald.
Former CEO David Drumm was also on one of the calls.
While Bowe and Fitzgerald have categorically denied that they deliberately misled the government and regulators over the financial health of the bank, the jokey tone over several recordings have suggested otherwise.
When Bowe was asked by Fitzgerald on how he arrived at a figure of €7bn (£5.9bn, $9.2bn) for central bank aid, he replied: "Just, as Drummer [David Drumm, former CEO] would say, 'picked it out of my a**e.''
In another phone call, Bowe told Fitzgerald about his meeting with regulators the day before and how the proposed bailout was a "bridging loan". Both laughed about how the bank would never be able to pay it back.
"So it is bridged [the bank bailout] until we can pay you back ... which is never!" said Bowe.
In 2008, the Irish government offered a blanket guarantee to its banks who were experiencing the credit crunch on the back of a massive property bubble with aggressive lending practises.
In 2010, Dublin had to accept a €67.5bn bailout from the European Union and International Monetary Fund as the cost of rescuing the country's banks reached a €64bn overall. To pay the bill, Ireland had to endure painful austerity measures.
Both the state bank guarantees and the bank bailouts have almost bankrupted Ireland's economy. Salaries have been cut and taxes have gone up to help pay debts resulting from the rescue.
Since the onset of the financial crisis, three Anglo Irish executives have been charged with financial irregularities. A trial is not expected until 2014.