Pop star Rihanna has blasted a fan who accused her of being selfish and insensitive for sharing photos of expensive gifts she received from designers.
The Diamonds hitmaker hit back after the fan called her out on Instragram and said her gift pictures were inappropriate when there were millions of people across the globe who were suffering.
Among the gifts the millionaire singer showed off was a pink clutch from Stella McCartney, shoes from Prada and personalised tops from Alexander McQueen.
After RiRi posted an image of a black bag sent from Donatella Versace, Farielaaa wrote: "There's people out their [sic] dying and you are taking pics of your good new things. Help and give to people who never owned a Prada bag. If you love your fans, help them too. It's all because of us you making your damn money. What do we get? Nothing"
The message clearly touched a nerve with an angry Rihanna responding within minutes. "My Prada shoes that I spent nothing on can't stop anyone from dying,2 she said. "However, the $100,000 I just sent to the Philippines will."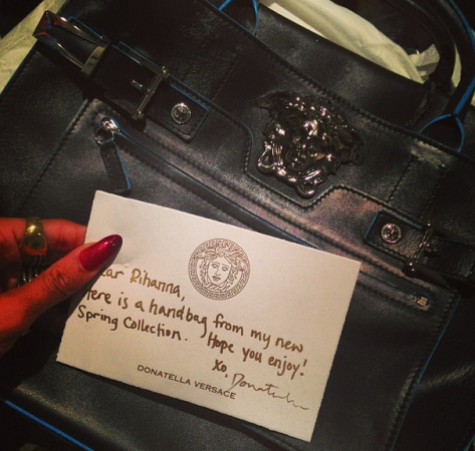 RiRi's post quickly garnered support of other fans.
"Nice one riri... giving it back like its hot ... twitter beggers," one wrote.
Another said: "It's her money, let her use it her way. What have the fan done to help the needy?"
In February, Rihanna hit back at a fan on Twitter over concerns that she had got back with her abusive boyfriend Chris Brown who was convicted of assaulting her in 2009.
Lilly Allen Blasted over 'Rich People's Problems'
The Hard Out Here singer faced jibes when she whinged about buying a £330 Fendi scarf in Venice and losing it in Zurich.
Lily, 28, tweeted: "I bought a Fendi scarf this weekend in Venice.
"I lost it today in Zurich, if anyone sees a long cream woolly scarf, ummm let me know I guess."
Lily Chandler hit back: "Yeah same here, I got a Hermes bag in bev hills and lost it in Monaco, keep an eye out #richpeopleproblems."
Another mocked: "yeah, I also lost a scarf. It was tweed and lost in Kebab Express, Cheltenham. £20 reward."
Allen had been updating her 4.4million followers after husband Sam Cooper, 35, whisked her off for a Euro winter break.