A dispute has broken out between two rival Anne Frank charities, with one accusing the other of acting like the Nazis.
The Anne Frank Fund, based in Switzerland, likened the behaviour of the Anne Frank Foundation in the Netherlands to that of Hitler's followers in WWII - the very people Anne Frank and her family hid from.
The dispute centres on 25,000 letters, photographs and documents that the Anne Frank Fund lent the Dutch charity in 2007.
Yves Kugelmann, a board member with the Swiss organisation, told the Dutch newspaper De Volkskrant: "In the 1940s, the Frank family had its possessions seized by the Germans and their accomplices - now a Dutch institution is trying again to carry out a seizure."
The dispute stems from the death of Anne's father, Otto, who gave the original diary to the Netherlands, but left his family estate to the Swiss-based fund, which included publishing rights to the diary.
The charities have been rivals ever since and became embroiled in a bitter dispute in the 1990s over which organisation had the right to trademark the Holocaust victim's name.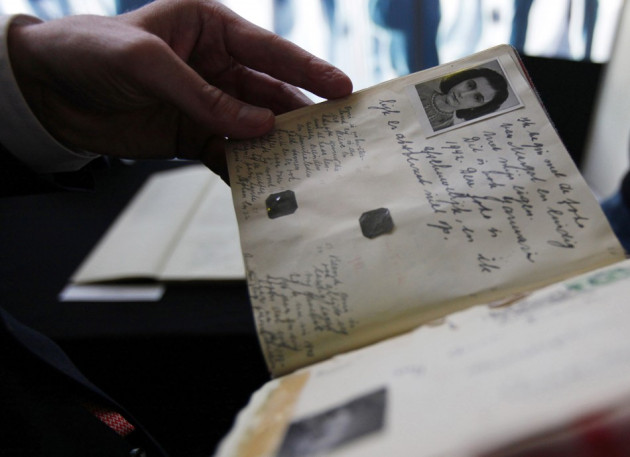 The legal battle over the documents has been going on since 2011. The foundation said it legally owned some of the archive it was holding and had expected the loan to become permanent.
Maatje Mostart, a spokeswoman from the Anne Frank Foundation, which runs the Anne Frank House in Amsterdam where the Jewish teenager hid from the Nazis during the war, said the dispute was "really sad".
She said the foundation would eventually return parts of the archive if the fund insisted.
The Anne Frank Fund, run by the teenager's closest living relative, Buddy Elias, wanted the archive returned so that it could be placed in a new permanent Frank Family Museum, devoted to the entire family in Frankfurt, where Anne was born.
In 2012, a judge denied the fund's demands that the archives be returned immediately as the loan agreement was for 10 years and still had time to run.
David Barnouw, of the Netherlands' Institute for War, Holocaust and Genocide Studies, said the Kugelmann's comparison of the foundation to Nazis was unfair.