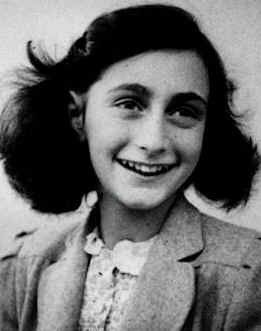 War is hell and the day we, the collective that is all humanity, completely forget that truth, is the day the entire world will descend into a free-for-all nuclear-powered holocaust the likes of which will not only wipe out all traces of mankind from the annals of history but also earmark the Earth and its (former) occupants, in the eyes of alien species (should they, in fact, exist) as being among those to be labelled "irretrievably silly".
Fortunately, every now and then we have a small band of people - men, women and children - separated by time, distance, geopolitical situations and culture but who nevertheless create and foster a spirit of survival and engender a rebellion of the body and soul, against suffering, brutality and just plain violence.
Anne Frank was from that group of heroes.
Who Was Anne Frank?
It is hardly necessary to remind anyone who has any knowledge of the Second World War who this precocious Dutch Jewish teenager was. However, for those unaware of this remarkable young girl and her accomplishments, she was the author of a journal, kept during the years she and her family survived Nazi occupation by squirreling away in attics and hidden corners, until they were betrayed and captured by the Germans, in August 1944.
After Anne's death in a concentration camp, her father Otto Frank published her journal, in 1947. Frank died in 1980 and Anne's papers were then given to Netherlands Institute for War Documentation. Her true legacy, though, was the Diary of Anne Frank - a journal that detailed both the most ridiculously mundane squabbles of everyday life and the graver, more serious decisions at such times of turmoil. What marked Anne's narrative apart was the juxtaposition of innocence and a startling maturity in her writing and thoughts... and the investment of each page, each line and each word with the cloud of danger, of fear, of discovery and of death that most of us will fortunately never know.
Anne began to keep a journal - which she called Kitty - in early June (she received the book as a 13th birthday present) after Nazi occupation of the Netherlands and just before she and her family, along with some friends, were forced into hiding.
"I hope I will be able to confide everything to you, as I have never been able to with anyone, and I hope you will provide much support and comfort," Anne wrote in that diary and she kept her promise. We can only hope the diary did as much. Today, Anne Frank's diary has been translated into more than 70 languages and remains a best-seller.
Anne Frank, the Little Girl
A report by Jewish Journal talks about a book - Anne Frank's Family: The Extraordinary Story of Where She Came From - a chronicle of some 600 personal documents. The book shows Anne as a child of 10 and "the snapshot of smiling little Anne in her sun-suit is heartbreaking precisely because we know what awaits her only a few years in the future and she does not, but it also allows us to see her not as a suffering martyr but as a happy little girl, something that makes the heartbreak even sharper".
The "little girl" refused to fade away though. According to a report in The Times of Israel, despite being on the run, Anne loved to fill her life with colour and laughter. The report says Anne's Secret Annex-bedroom was filled with cut-out faces of laughing babies, movie stars and a regal Princess Elizabeth, who was born three years before Anne.
There are few historical figures and fewer still cultural artifacts that are as effective reminders of the Holocaust and the World Wars, than Anne Frank's Diary. It is perhaps fitting then that on the occasion of the 70th anniversary of that famous diary, almost every country in the world is doing its bit to help spread its message.
In memory of that little girl and all she now stands for, the Anne Frank Trust UK - a partner organisation of the Anne Frank House in Amsterdam - is involved in a number of active projects - The Schools Project (where twelve students are trained as volunteer guides), The Prison Project (an exhibition and a talk by a Holocaust survivor on issues of identity, stereotyping and diversity) and Public Exhibitions.
Who Wrote the Diary?
There has also been a fair bit of controversy surrounding both Anne and the diary. Initial speculation Anne Frank was a fictitious character and her "diary" was merely propaganda were countered by the investigations of Simon Wiesenthal, the head of the Jewish Documentation Center in Vienna, who tracked down the German official who raided the Frank family. The officer, Karl Silberbauer, confirmed both Anne's existence and the diaries themselves. Any further doubt was laid to rest after Frank's death and the release of the original diaries. By 1986, they were confirmed genuine.