Hacktivist collective Anonymous has allegedly leaked the personal details of a "prominent" female member of the Ku Klux Klan, according to a report. The unnamed woman is reported to be behind one of the white supremacist group's websites and also a YouTube channel that reportedly publishes racist content.
The group dumped the name, address, employment and financial history of the person online as part of its wider campaign to disrupt the KKK, according to the Daily Mirror. It comes days after Anonymous, a loose international coalition of hackers and activists, took down the website of the White Knights of the KKK using a distributed denial-of-service (DDoS) attack.
DDoS attacks work by flooding a website or network with artificial traffic, eventually overwhelming it and potentially knocking it out for hundreds of thousands of users. As of 28 April, the White Knights of the KKK site remains inaccessible.
Cyber war
Anonymous began targeting the KKK after the white supremacist group made threats against those protesting against the killing of a black teenager in Missouri in 2014. The hacktivist collective dumped the personal details of more than 1,000 alleged members of the group on the internet last November.
"The KKK is a huge organisation with political connections that rival the best lobbyists," an Anonymous hacker, who claimed to have participated in the DDoS attack on the White Knights of the KKK website, told the Daily Mirror.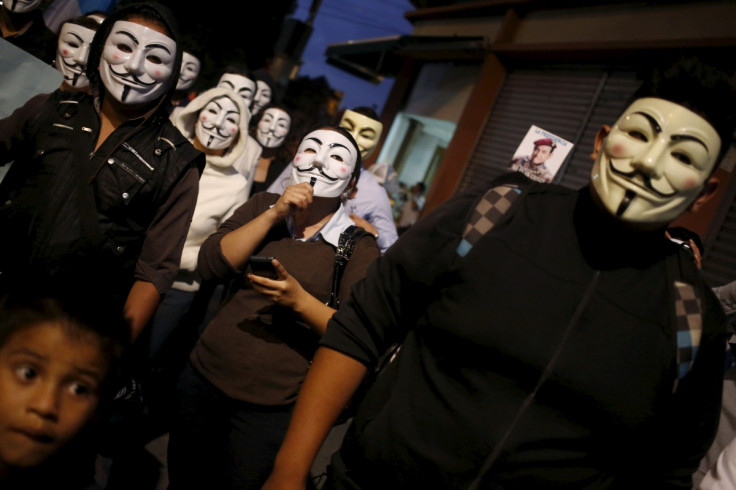 "It is one of the largest, oldest institutions of hate in the world. There is a lot of negativity surrounding Anonymous right now. I wanted to show people that we are only trying to accomplish good things together."
Anonymous was angered by the KKK issuing threats against those protesting against the killing of an unarmed 18-year-old African-American, Michael Brown, by a white police officer in Ferguson, Missouri. A grand jury cleared the officer in question of all charges in November 2014, sparking mass protests in the majority-black city