Anonymous China: Hacktivists Tell Chinese to Fight Against 'Tyranny of Regime'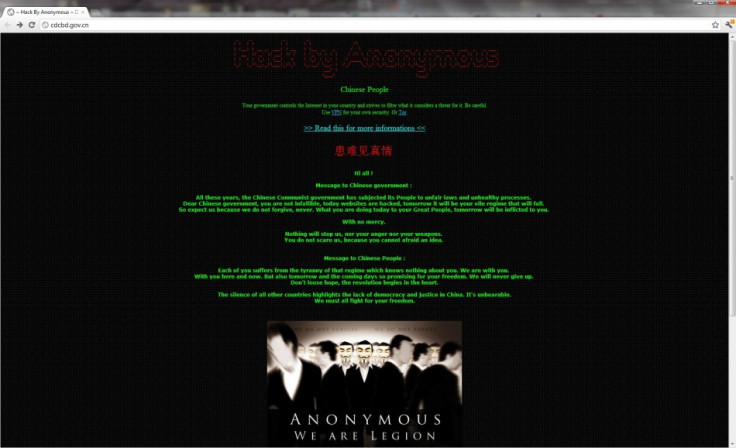 Hacktivist group Anonymous has urged Chinese citizens to revolt against their government after promising to take aim at its government agencies.
They have now claimed to have hacked into hundreds of national government and business websites with messages defacing the Chinese government's oppression.
Anonymous are also asking the people of China to rise up against their government in order to fight against the "tyranny of that regime".
In one Pastebin post, it explains the reasoni why it is now targeting Chinese government agencies and organisations.
In another, Anonymous have listed almost 500 websites it claims to have targeted.
The message reads: "All these years, the Chinese Government has subjected their people to unfair laws and unhealthy processes."
"People, each of you suffers from tyranny of that regime. Fight for justice, fight for freedom, fight for democracy!
"In the [defacements] and leaks in this day, we demonstrate our revolt to the Chinese system. It has to stop! We aren't asking you for nothing, just saying to protest, to revolt yourself, to be the free person you always want to be! So, we are writing this message to tell you that you should protest, you should revolt yourself protesting."
The hacking group also posted a message to one of the Chinese sites that was attacked in English reading: "Dear Chinese government, you are not infallible, today Websites are hacked, tomorrow it will be your vile regime that will fall. So expect us because we do not forgive, never. What you are doing today to your Great People, tomorrow with will inflicted to you. With no mercy."
The messages were supported with links to a page of guidelines as to how to get around the country's strict internet laws.
© Copyright IBTimes 2023. All rights reserved.