Following the revelation that Sabu had turned on LulzSec, working as an FBI informant, Anonymous remain defiant, posting a statement promising to "fight on".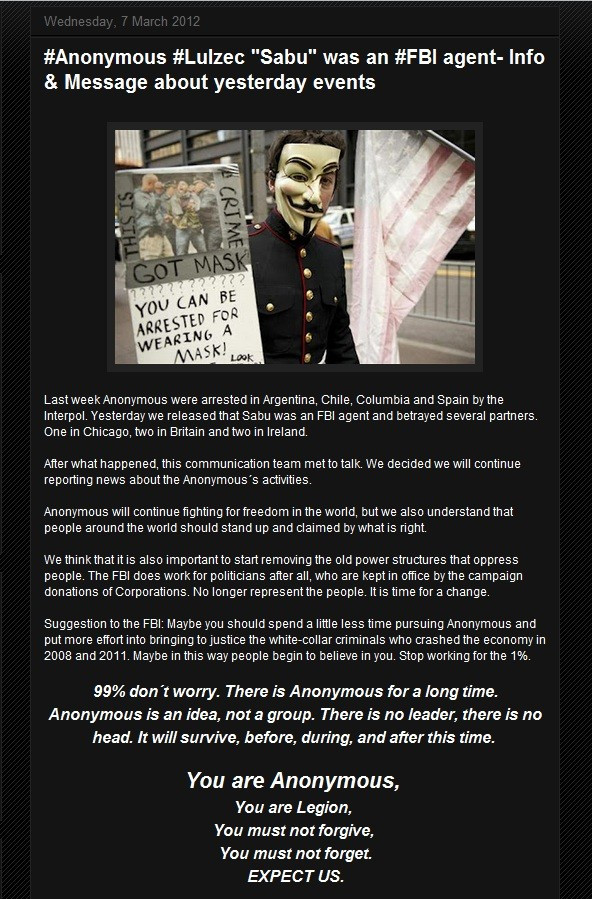 The statement went up on Anonymous's central AnonOps site on Wednesday. Addressing the revelation that prominent LulzSec member and outspoken Anon - the name used by Anonymous members to define their affiliation to the collective - Sabu had been caught by, and was working with, the FBI.
Following the statement, Twitter has erupted with reported attacks credited to Anonymous. As well as attacks on calidus.ro and ucla.edu, Anonymous has claimed to have mounted successful hacks and defacements on 25 sites owned by Panda Security.
Here are three tweets posted by @AnonOpsSweden:
"#hacked ucla.edu by the sweeet TeaMp0isoN: @phantom4life @_f0rsaken Members : TriCk,MLT,aXioM pastebin.com/tbWB6BuJ #antisec."
"HACKED: calidus.ro - details soon! //currently getting the database." via @AnonOpsRomania.
"Panda Security hacked by #Antisec over 25 websites related to panda hacked and defaced cylaw.info/?p=877 #Anonymous #LulzSec #news #lulz,"
At the time of writing Panda Security's main site was still down. We have been in touch with Panda and are waiting to hear back from their representatives in relation to the attack on its website.