Anonymous Million Person March demands lowering of the Confederate flag after Charleston massacre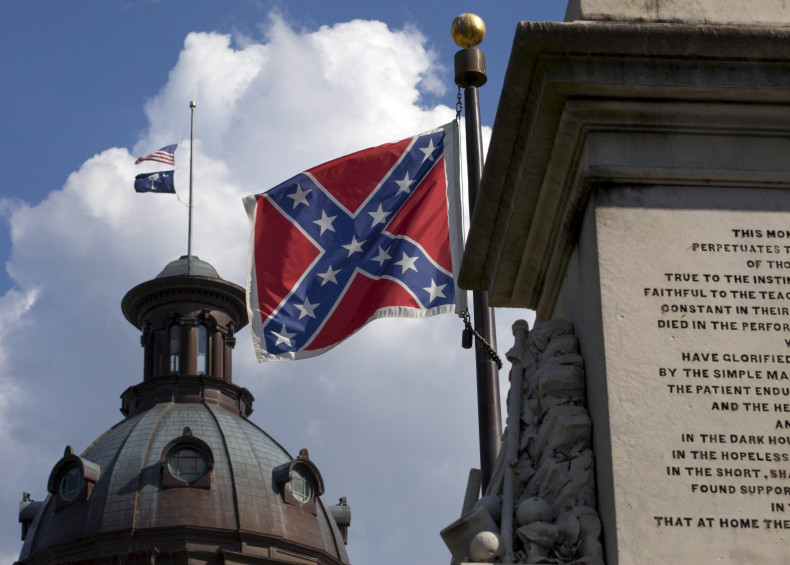 Anonymous, the online hacktivist collective, is planning a protest march in South Carolina in conjunction with the Occupy and Black Lives Matter movements to demand that the Confederate flag comes down
Following the murder of nine church-goers in Charleston, South Carolina, by a professed racist who was apparently inspired by Confederate propaganda, there has been a widespread call for the end of the use of the Confederate flag, seen by many as a symbol of America's racist past.
While some government buildings have removed the Confederate flag, there has still been no decision made to outlaw its use. This is why Anonymous has called on supporters to march on the South Carolina State Capital in Columbia on 4 July to demand that "the flag must come down".
In a statement, the group referenced Bree Newsome, a young black woman who climbed the pole in front of the South Carolina State Capital and removed the Confederate flag. Newsome, who was quickly arrested after coming down the pole, has become a hero to many online.
Anonymous said in its statement:
"On this day, we witnessed the incredible courage of Bree Newsome, a young black activist and organiser, bravely climb up that pole in front of the South Carolina Capital while quoting bible verses and remove herself what the legislature should have already removed long ago: that reviled symbol of hate and subjugation of black Americans. We believe that this historic act of civil disobedience must be honoured, and in a way befitting such an amazing act of courage."
The march, which mirrors the group's annual Million Mask March that takes place in cities around the world, will see those taking part "sing hymns of praise, we will honour the fallen, we will feed each other, we will love each other. And together with a million voices and fists raised to the heavens we will demand one thing: The Flag Must Come Down."
The event kicks off at 9am local time (2pm GMT) and will proceed along the following route: