Anonymous #OpKKK: Senator Johnny Isakson of Georgia denies involvement with Ku Klux Klan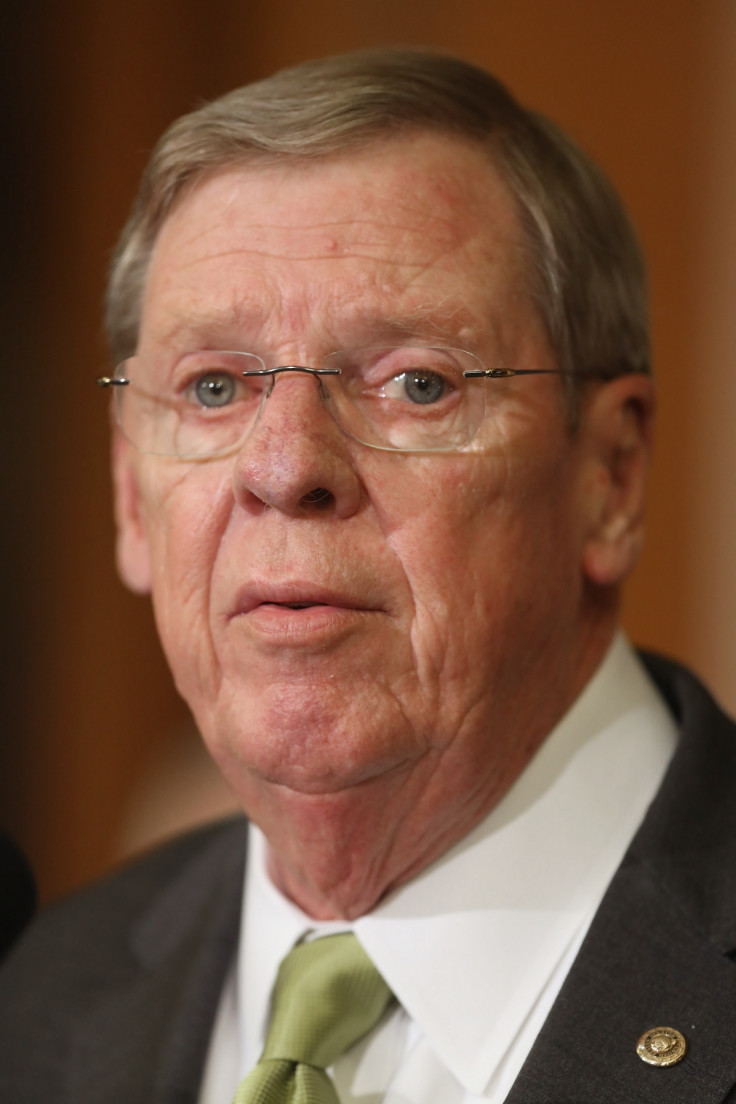 US Senator Johnny Isakson of Georgia denied any involvement in the Ku Klux Klan after he was outed along with three other Republican Senators as alleged members of the white supremacist group. Hacktivist group Anonymous has promised to expose the identities of up to 1,000 members of the KKK, with five mayors also included in the ongoing Operation KKK.
"This information is absolutely false and comes from an unverified source. Senator Isakson has never been affiliated with the KKK," the senator's office stated. Fellow Republican Senator Dan Coats of Indiana also denied involvement in a series of Tweets following the publication of the list. "For those who are asking - I have never had any affiliation with the Ku Klux Klan and deplore all forms of racial discrimination," he wrote.
Several mayors named in the first published list also responded to the allegations on social media. Norfolk Mayor Paul D Fraim of Virginia wrote, "People have been spreading a report from the Internet that I am involved with the KKK. This report is a hoax and is absolutely false." Fort Wayne Mayor Tom Henry of Texas likewise denied the accusations, calling them "totally false and irresponsible.
Lexington Mayor Jim Gray of Kentucky tweeted, "This allegation from the group Anonymous is false, insulting and ridiculous. I have never had any relationship of any kind with the KKK."
Meanwhile, Knoxville Mayor Madeline Anne Rogero of Tennessee took to Facebook to clear up her name and discussed the variety of ways she has "pushed for diversity" in the workforce and reminded supporters of her advocacy work for LGBT civil rights. "I strongly request that anyone associated with the creation and dissemination of this false and defamatory accusation retract it immediately. It is irresponsible and slanderous," she wrote.
The release of names of politicians purportedly members of the KKK comes at the same time as contact details supposedly of members were published by Anonymous. The group published 57 phone numbers and 24 emails along with the message: "There is no place for racism now we're more connected, the time to cooperate and better the world is now."
The information was claimed to be obtained by a faction of the activist group after it was able to gain access to a KKK Twitter account. A hacker going by the name Amped Attacks claimed to be behind the release, posting a message along with the list. "These are the officials that have political power in the USA that are associated with either KKK or racist related."
The hacker also released evidence that they were behind the attacks on KKK websites that were forced offline in recent days. Amped Attacks revealed to IBTimes UK that the Senator's email addresses were found in databases held by several KKK sites.The hacker said they are not part of Anonymous but is rather a supporter of its #OpKKK.
© Copyright IBTimes 2023. All rights reserved.