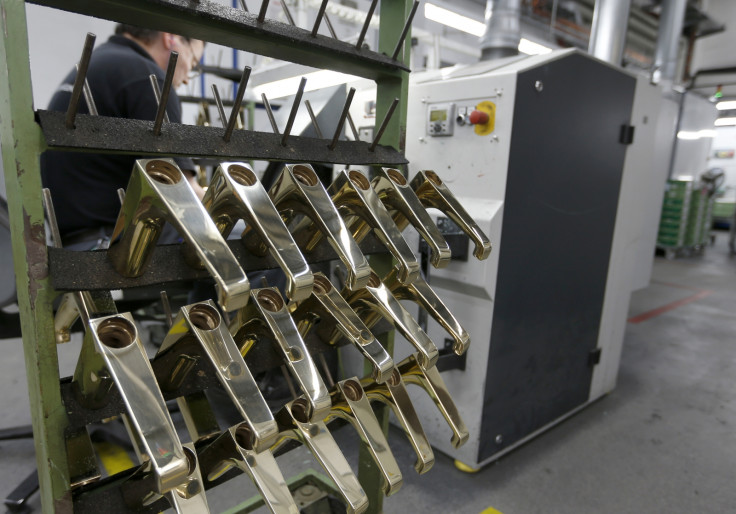 Germany's trade surplus widened in October on the back of the highest monthly exports volume on record.
While seasonally adjusted exports fell 0.5% on a monthly basis, the raw data shows that the €103.9bn volume of exports is the highest value of goods Germany has ever shipped out in a month and confirms the country's place as Europe's industrial powerhouse. Adjusted for calendar discrepancies, the figure is €97.2bn.
Imports slowed sharply, down 3.1% over the month. This can be explained mainly by a weak euro and lower oil prices.
Just two months ago, analysts were voicing concerns over the famed German exports engine. August's 5.8% fall was the biggest since January 2009, heightening fears that Europe's economic powerhouse was spiralling into recession.
However, this has since been explained by a seasonal adjustment: holidays came earlier this year in Germany, so August has been dismissed as an anomaly.
The country's trade surplus has now widened by around €2bn, to €20.6bn.
"Europe is by now the stability anchor of German exports again, with exports to the currency zone up by orts again 2.5% year on year in the first ten months of the year, only surpassed by non-euro EU members, where exports expanded by 9.8%," wrote Christian Schulz of Berenberg Bank in a note.
However, concerns remain about the overall health of Germany's economy. In November, German inflation was fell to its lowest point for nearly five years. This, according to Schulz, is more indicative of slower domestic consumption rather than its exports performance.
He told IBTimes UK: "Exports both in real and nominal: they're not the problem. They're growing faster this year than last. Germany's major export markets are either doing better or at least not worse."
Other analysts have warned, however, that while German exports may be secure in the medium-term, the long-term picture is less rosy. Fast-growing nations such as China, India and Indonesia are acquiring the capability to produce the same value-added goods that Germany has been so pioneering in. It may not corner the high-tech engineering market for many years to come, Carsten Brzeski of ING Bank said in a recent telephone interview.
Brzeski, however, is impressed by Germany's efforts to diversify its exports market: "The fact that German exports to non-eurozone countries are up by around 7% on the year illustrates the economy's gradual decoupling from the rest of the eurozone," he wrote in a note.