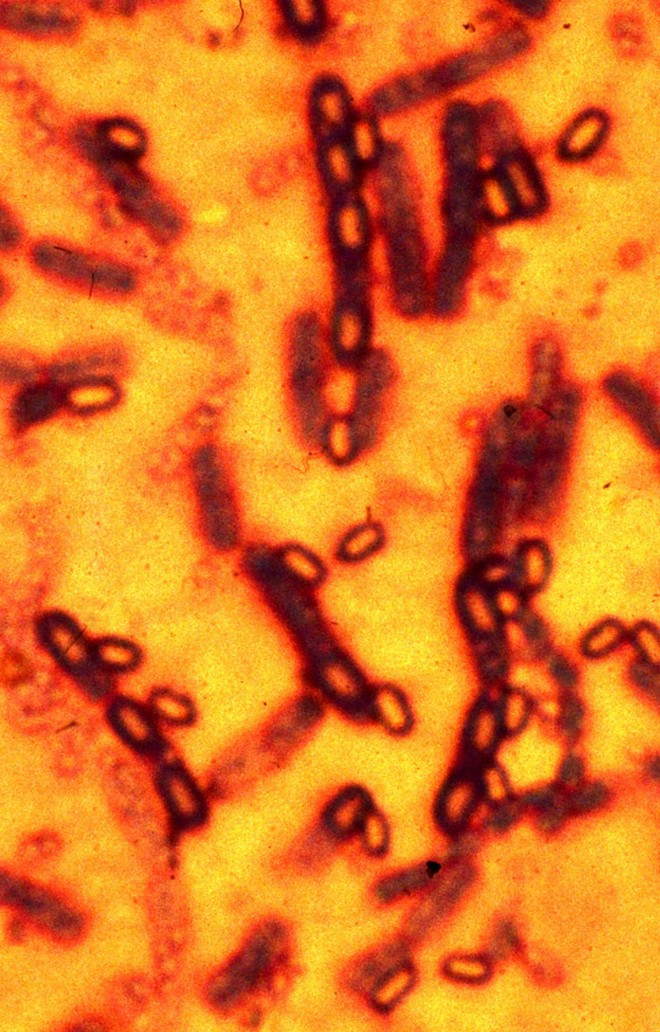 The US defence department has ordered a wide review of the bacteria inactivation process after discovering two more states received the suspect live samples, in addition to nine others and the South Korean military base and Australia.
Pentagon has asked all labs to stop working on 'inactive samples' sent from the defence department, while insisting there is no danger to public or lab workers.
Experts have said the irradiation procedure used to inactivate can miss a few spores.
Anthrax spores are as tiny as 1 micron in diameter and a sample could contain 10 billion individual spores.The X-rays or gamma rays used to kill anthrax spores can miss a few spores.
"If a procedure kills 99.999 percent of the bacteria, there would still be 100,000 spores left viable," John Peterson, a microbiology professor who works with anthrax at the University of Texas Medical Branch told NBC News. "They are very difficult to kill."
This is also the reason why anthrax is considered a potential biological weapon. They can get dispersed easily and linger for long in the environment.
Almost 22 people in the South Korea base are suspected of being exposed to the bioterror agent.
Deadly mishaps waiting to happen?

In a special investigation across some of the top bio-secure labs in the US, USA Today has uncovered deadly lab mistakes ranging from missing vials of engineered deadly bacteria missing, lab waste discarded in the open, infected meat sent for consumption and lethal viruses escaping.
More than 100 labs experimenting with potential bioterror agents have been cited by regulators at the CDC and USDA for serious safety and security failings since 2003, the report notes.
Many of the high-containment labs are conducting experiments involving drug-resistant tuberculosis, exotic strains of flu, the SARS and MERS viruses, plague, anthrax, botulism, Ebola and Marburg hemorrhagic fever viruses.
Surprisingly, there is no universal, mandatory requirement for reporting lab-acquired infections, and except for major accidents, most safety breaches go unreported in the public.
The latest 'mishap' follows last year's high-profile lab accidents with anthrax, Ebola and bird flu at the Centers for Disease Control and Prevention besides the discovery of forgotten vials of deadly smallpox virus at the National Institutes of Health.
More recently, in Louisiana, a deadly bioterror bacterium Burkholderia pseudomallei, accidentally infected primates housed in the Tulane centre away from the top safety level lab. Soil and water tests are still underway.
"What the CDC incidents showed us ... is that the very best labs are not perfectly safe," says Marc Lipsitch, a Harvard University professor of epidemiology told USA Today. "If it can happen there, it certainly can happen anywhere."
Often labs create versions of influenza viruses that are more deadlier than the natural ones as they spread fast. Not enough is known about safety protocols at labs that perform infectious disease research.
However, these are labs working on new treatments and vaccines by understanding how organisms cause disease."We have to find some happy blend of minimized risk and enhanced benefit," said David Relman, a microbiology professor at Stanford University.
The media investigation reveals over 100 security breaches, many in the biosafety level 3 and 4 labs, that go unreported with their safety records not available with health departments.
The reasons are many and can be anything from caretakers getting exposed to the infected birds and animals, lack of protective gear when handling viruses, inadequate training in how to inactivate samples or recognise infection, etc.
The GAO, the investigative arm of Congress, has since 2007 warned that the proliferation of BSL-3 and BSL-4 laboratories has increased the risk of accidental or intentional releases of deadly pathogens.
With no single agency tracking these labs, the mistakes keep recurring. Penalisation of erring labs has also been shown to be erratic in the media analysis.