Anti-government rebels in Syria have advanced against President Bashar al-Assad's regime forces, attempting to break the month-long siege of opposition-held areas in the embattled city of Aleppo.
The eastern part of the city controlled by the rebels has been subject to relentless bombing from Russian and Syrian warplanes, allegedly killing hundreds of people.
The Islamic Front rebel coalition announced on Twitter early on 28 October that the ultra-conservative Ahrar al-Sham group targeted a military airport to the east of the city – used as a base for Russian forces – with Grad rockets and destroyed a government position to the west of the city.
According to the Syrian Observatory for Human Rights, the fighting in western Aleppo involved violent explosions, including three suicide car bombs, preceded by heavy shelling from rebel groups. The observatory also reported at least 15 civilians were killed, while 100 others were wounded by dozens of shells, and expects the civilian death toll to rise.
Ammar Sakkar, the military spokesman for the powerful Fastaqim faction inside the city, was reported in the Associated Press saying: "All the revolutionary factions, without exception, are participating in the battle."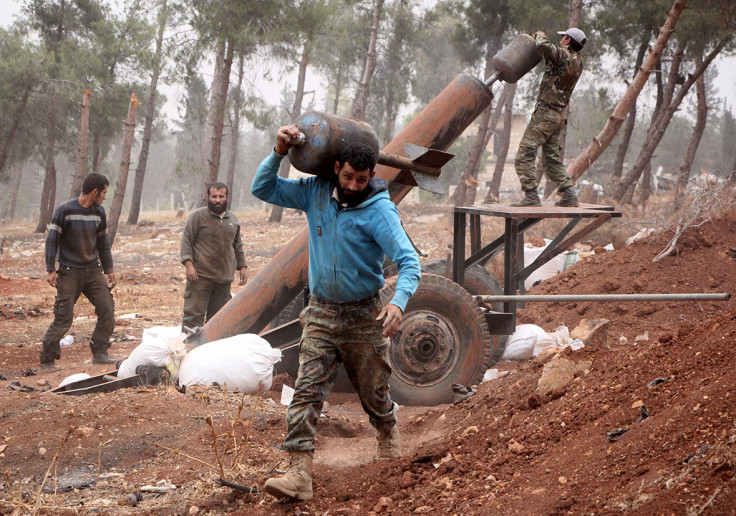 As the fighting raged on, the Russian, Syrian and Iranian foreign ministers met in Moscow to discuss the conflict, agreeing to intensify the fight. Russian Foreign Minister Sergey Lavrov also continued to deny Russia's involvement in the airstrikes that hit a school in the Idlib province and that reportedly killed 22 children and six teachers.
The Russian military has asked President Vladimir Putin for permission to resume the airstrikes on the rebel fighters in eastern Aleppo, which have been suspended for the past ten days.
"Since civilians continue dying and the militants have resumed active combat actions against government forces, we've asked the Supreme Commander to authorise resumption of air strikes at illegal paramilitary formations in eastern Aleppo," General Sergey Rudskoy, the chief of the main department for operations at the general staff of the armed forces, told Russian media.