Forces loyal to the Assad Regime have made crucial gains in Aleppo, capturing crucial high ground in the city's south, following three days of bitter fighting.
The gains came on the heels of a largely meaningless "humanitarian pause" announced in Aleppo by the government in Damascus and its Russian backers. According to the pro-Assad forces, the four-day-long unilateral ceasefire was meant to allow civilians to leave besieged eastern Aleppo.
However the rebels rejected the deal as a psychological ploy meant to bring them closer to surrender.
Following the resumption of fighting on 22 October, the UK-based Syria Observatory for Human Rights said the southern high-ground of Bazo district was captured during a fresh offensive which began on 24 October.
The Associated Press reported the operation took the hilltop of Bazo on the southern edge of Aleppo, near military bases. Opposition activists said the action was accompanied by the intense shelling in eastern, rebel held areas.
The Syrian Arab News Agency reported retaliatory rebel attacks on government-held neighborhoods in western Aleppo, killed one and wounded seven.
Since the collapse of a seven-day-long ceasefire brokered by the United States and Russia on 19 September rebel held districts have been subjected to some of the worst air raids in the protracted siege of the eastern rebel held areas began.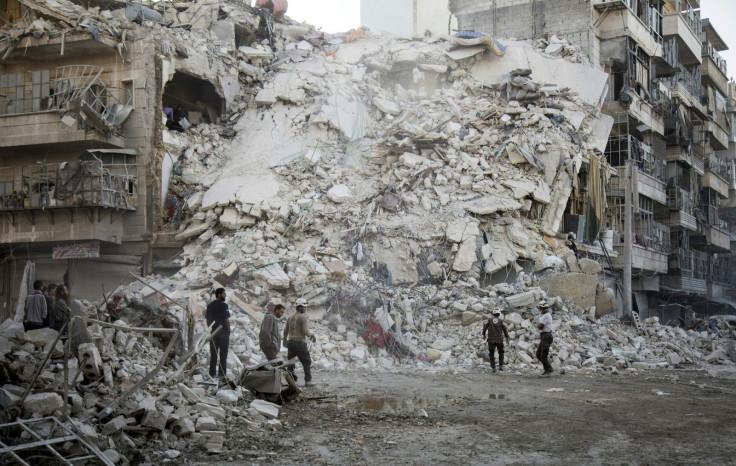 Opposition activists say more than 600 people have been killed in Aleppo and neighbouring villages since then.
In the wake of the mounting humanitarian catastrophe in Syria, French Foreign Minister Jean-Marc Ayrault has called for an end of the "massive bombing raids" by Russia and Syrian government.
Speaking in Ankara in a joint press conference with his Turkish counterpart, Ayrault said: "it's the only way that humanitarian aid can reach populations that really need it; it's the only that that the negotiations can resume."
He added there could not "lasting peace" in Syria "outside of a political solution".