Anti-Isis battle in Syria's Raqqa in 'final stages' with 80% city liberated says US-backed SDF
The Syrian army also reached Raqqa's provincial border after capturing about 100km of the west bank of the Euphrates recently.
The fight to liberate Raqqa in Syria from Isis militants is in its "final stages", the US-backed Syrian Democratic Forces (SDF) said on Wednesday (20 September).
In a statement, the group added that they have retaken nearly 80% of the former de facto Isis capital and are opening up a new front on the northern edge of the city to finish the months-long battle.
SDF, which comprises Kurdish and Arab fighters backed by a US-led coalition group, entered the city in June marking a vital phase in their fight to liberate Raqqa. Syrian government forces backed by Russia are also fighting the Islamist militant group, attacking them from another direction.
SDF calls the operation Euphrates Wrath campaign, under which they also liberated other Isis-held towns in Syria. The militant group lost a large part of their territories in the country in the past few months to SDF as well as the Syrian army.
"We can say that 80 percent of the city of Raqqa has been liberated," the SDF statement read. They added that this was "the final stages of the Euphrates Wrath campaign, which is nearing its end", Al Jazeera reported.
An SDF media official told Reuters that their main obstacle in Raqqa was to avoid civilian casualties and a high concentration of mines. He said that they estimate up to 1,000 Isis fighters still remain in the city.
Meanwhile, the UK-based Syrian Observatory for Human Rights reported on Wednesday that the jihadist group has collapsed along the west bank of the Euphrates downstream of Raqqa following a fight with President Bashar al-Assad's army. It added that Isis only has 5% of Raqqa under control and that their remaining fighters have almost run out of food and ammunition supplies.
The observatory added that the Syrian army reached Raqqa's provincial border on Wednesday after capturing about 100km of the west bank of the Euphrates in September.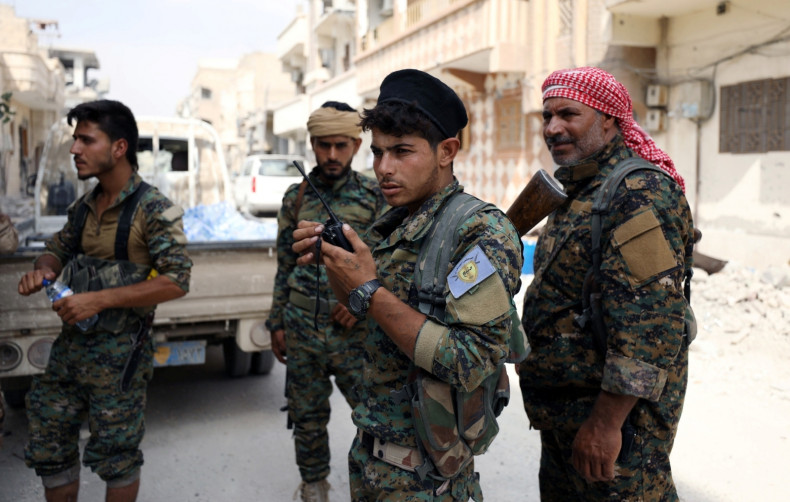 Both SDF and the Syrian army are also fighting the militant group separately in another Syrian city, Deir al-Zor.