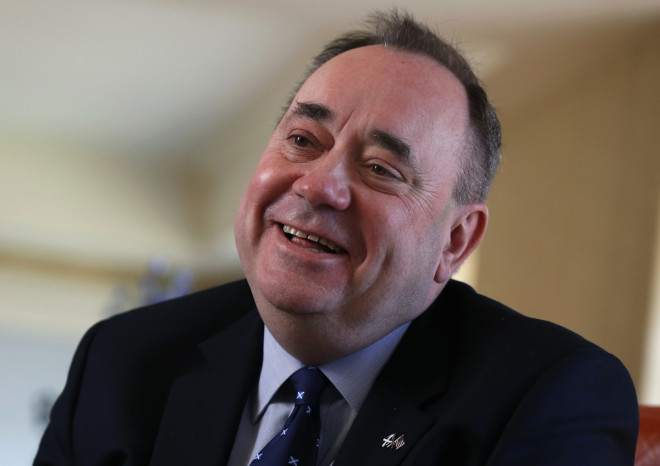 Scottish nationalist leader Alex Salmond will be delighted that an un-named minister has been whispering that all the talk about Westminster never allowing the Scots to keep the pound is nonsense.
He might be even more delighted, however, by the reaction in the "no" to independence camp.
Not for the first time, it appears the Better Together campaign, or at least some individuals within it, have got a double dose of the jitters and are beginning to fear the Union is really slipping from their grasp.
So when an anonymous government minister allegedly told the Guardian newspaper: "of course there would be a currency union", they went into a full-on flap.
There were headlines including: "Who has put the Union in jeopardy" (Daily Telegraph) and "Whoever said Scots can keep the pound will be served up as a kebab for Osborne" (Daily Mail).
And perfectly sensible comments from Scottish Secretary Alistair Carmichael that it was "not impossible" that Scots could vote for separation added to the nervousness.
According to the ministerial source, who it was reported would be central to any post-independence negotiations: "There would be a highly complex set of negotiations after a yes vote, with many moving pieces. The UK wants to keep Trident nuclear weapons at Faslane and the Scottish government wants a currency union – you can see the outlines of a deal".
The problem was not only that the remarks seemed entirely realistic, but that many believed they knew who the briefer was. And that only made it worse.
Defence Secretary Phillip Hammond has flatly denied it was him while a "very senior Liberal Democrat minister" is also in the frame. Rumours it was Business secretary Vice Cable have also been denied.
Talk of a leak inquiry, however, are as fanciful as they always are. Even if the source could be identified – and that would be a first for such an inquiry - it would only make things more difficult still by keeping the whole thing running.
As it is, ministers have been swift and robust in their denunciations insisting there is no way an independent Scotland could join a currency union with the rest of the country.
Better Together leader Alistair Darling played down the row saying any such monetary union might have to be put before the rest of the country in a referendum.
He suggested the political parties might even rule it out in their election manifestos, stating: "I think it is almost certain that the political parties would make it clear in their manifesto that they do not want Scotland in a currency union."
He also dismissed claims the gap between the "yes" and "no" camps was narrowing, saying: "What is consistent is that we have had a firm lead over the nationalist side of the argument. I'm not complacent, there are some months to go, but I just think people need to get this into perspective."
But none of this altered the fact that elements within the "no" campaign are once again fretting and, this time, it may take more than Darling's reassuring hands to calm them down.