Despite strong condemnation of Japan's recent killing of 333 minke whales in the Antarctic, authorities vowed to continue the practice they say is for research purposes.
However, ocean conversation group Sea Shepherd Conservation Society is convening a meeting of its directors over the weekend to discuss their "whale defense strategy in the Southern Ocean". Other animal rights groups have also condemned Japan.
A whaling fleet of five Japanese ships returned to the country on Friday (31 March) following their 83-day hunting exercise in the Antarctic waters. Australia, which has previously voiced concerns against Japan's whaling activities, complained again about the recent incident.
Undeterred by the criticism, Japan's Fisheries Agency official Shigeto Hase said at a welcome ceremony on Friday that they have achieved their plan and "will steadily continue our research toward a resumption of commercial whaling".
"Since a majority of both the males and females taken were mature, this indicates that the species is reproducing healthily," he said of the criticism about endangered species.
The ceremony was held in Shimonoseki — home port for the fleet's mother ship Nisshin Maru, which was caught by Sea Shepherd officials slaughtering whales in the Australian Whale Sanctuary in January.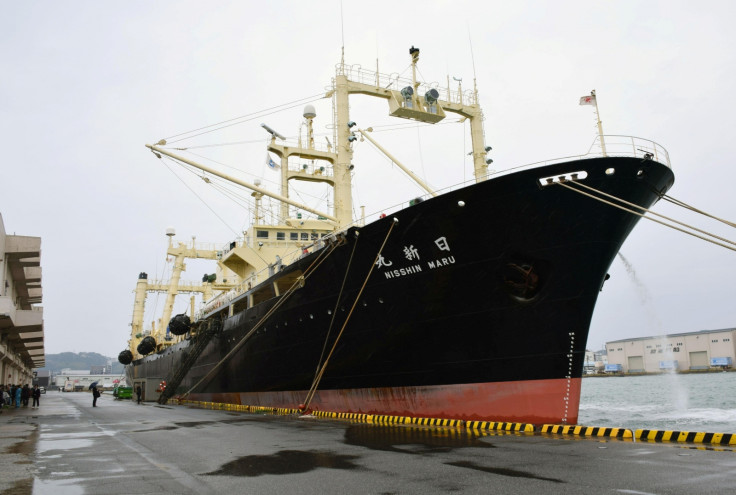 Hase argued that the whaling activities were part of their scientific research and was therefore, not in violation of the 1986 global moratorium on whaling that allows killing whales for research purposes.
"Each year that Japan persists with its discredited scientific whaling is another year where these wonderful animals are needlessly sacrificed. It is an obscene cruelty in the name of science that must end," Kitty Block, the Humane Society International's executive vice president, said, rubbishing the claims.
Echoing similar views, Sea Shepherd said in a statement: "Today Sea Shepherd mourns the loss of these whales. We have called an emergency meeting of the Global Board of Directors in Amsterdam this weekend to review our whale defense strategy in the Southern Ocean, and will release a more detailed statement on Monday morning," according to Sputnik International.