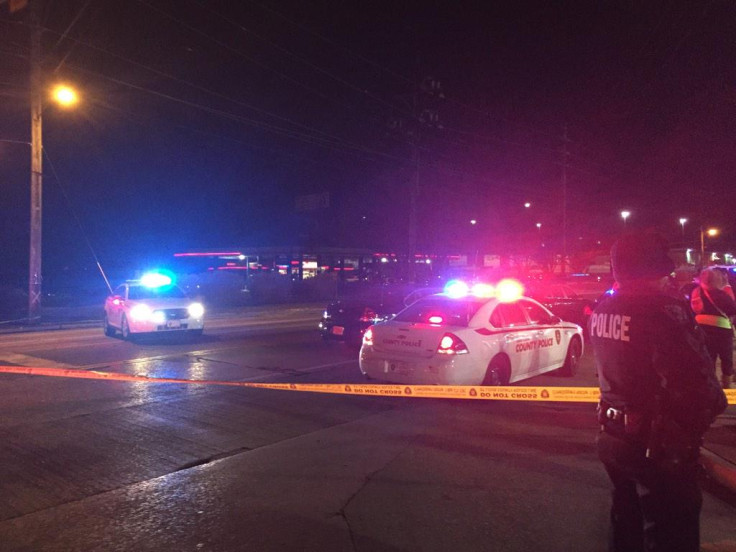 13:26 Belmar has said that "bad choices were made" as the officer did not have time to taser the suspect.
He also denied that police used pepper spray and said that one police officer was injured in the subsequent unrest.
13:13 St Louis police chief Jon Belmar is now conducting a press conference in which he has sent condolences to the Martin family.
He said that the officer in question had six years experience. He said that the suspect raised a weapon at which point he is shot three times by the officer.
13:07 St Louis County Police have released CCTV footage which appears to show a man raising a gun before being shot. At the top left of the picture.
12:24 The location of Berkeley in relation to the restive town of Ferguson where teenager Mike Brown was shot and killed.
11:58 According to reporters at the scene of the incident, St Louis police may release CCTV footage of the shooting at a press conference due to be held in an hour's time.
11:45 Local St Louis news outlet KMOV has announced that the St Louis County Police will hold a news conference to discuss the shooting.
11:22 The victim's girlfriend stands at the scene of the shooting.
11:19 A series of dramatic photos from the scene are being shared by social media users.
11:15 Damage has been reported around the Mobil gas station where the incident took place.
11:00 Antonio Martin's mother Toni Martin has claimed that police were "messing" with her son Antonio and his friend before he was shot dead.
She added: "He was a good young man ... trying to get his life back together. We was trying to get him back in school and stuff."
10:35 Unverified footage has emerged that allegedly shows Antonio Martin's body being placed into an SUV instead of an ambulance.
10:31 Welcome to IBTimes UK's live coverage of unrest in Berkeley following the police shooting of teenager Antonio Martin.
The latest:
Antonio Martin: Black teenager shot dead by police in Berkeley town near Ferguson
Antonio Martin: Crime scene photos and videos emerge on social media
Antonio Martin: Riot squad move in as crowds gather after black teenager was shot by police officer
Antonio Martin: St Louis County Police announce investigation into black teenager's shooting