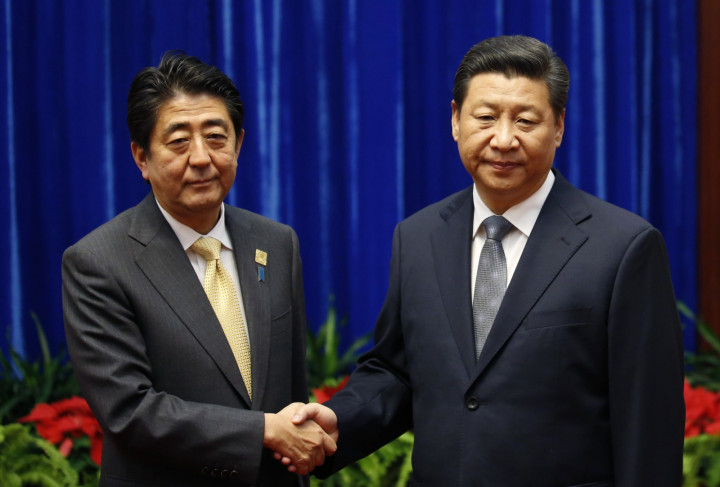 In the run up to the Asia Pacific Economic Summit (APEC) in Beijing which got down to business on 10 November 2014, polluting factories in the Municipality and provinces close by, were ordered to shut or curtail their operations in order to reduce the host city's air pollution which can be particularly bad when there is no wind to disperse it.
USA Today with Associated Press reported that many businesses and schools have been closed for a week now in an attempt to make the air cleaner and quoted one mother:
"I wish we could have APEC every day. The air is so clean, it shows if the government tries their best, we could have blue skies every day."
The article also stated that "only half the city's cars are allowed on the roads each day" but this is not particular to the summit and has been standard practice for some time. Sounds draconian but as Beijing's urban mass covers about 800 square miles and has roughly 19 million people with over seven million private cars, it's not too harsh to force the alternate half on to one of the most extensive – and ever expanding – subway systems in the world as it must also be one of the cheapest at 22 pence for any distance travelled, and Beijing's buses are half that!
The summit immediately produced great news for South Korea as they announced an agreement reached with China on a free trade deal that will eventually see the removal of tariffs on 90 per cent of trade goods, whilst President Obama heralded a new plan to extend Chinese student visas to five years and business and tourist visas to 10 years.
A White House statement said that by 2021:
"Chinese travellers to the United states will contribute nearly $85 billion a year to the economy and support up to 440,000 jobs."
That's something for Westminster to mull over!
Barring a photo shot of Japan's Prime Minister Shinzo Abe and China's President Xi Jinping in the Great Hall of the People, shaking hands but with sour faces, all appeared radiant and nothing appeared to spoil the good cheer, and certainly not the brief mention of Hong Kong's pro-democracy protests.
Matters appear to have improved after the meeting between the two heads of government and The Guardian reported on 11 November, Prime Minister Abe stressing:
"Japan and China, we need each other. We are in a way inseparably bound with each other. Japan and China both have responsibility for peace and prosperity of the region and the world."
There was some indication that Hong Kong could be on the agenda in private talks later, but with whom? President Obama was a guest of the Chinese President at a dinner held in Beijing's Zhongnanhai – once an imperial palace and garden complex next to the Forbidden City and now Communist Party and State Council HQ out of bounds to ordinary citizens. The American President gave very strong support to China's roadmap for a vast Free Trade Area of the Asia-Pacific (FTAAP)...but no word as yet on supporting democracy.
That indicates a triumph for Beijing's softly, softly approach, making the demonstrations and occupations since late September and now in its seventh week, all something of a non-event.
Reading a Ming Pao "Special Column" on 7 November 2014 entitled Don't judge the occupy movement wrongly, I thought the article could be read by the authorities in Beijing with a little more understanding, as by Hong Kong Chief Executive Leung Chun-ying and his staff in Central. Hard to do in a one-party state where the tendency is to immediately crush any and all challenges before listening to the grievances of any dissident.
The paper is a well-respected one which seeks to be independent and unbiased and the article explains some aspects driving the students and their supporters of the Occupy Central movement that are less obvious than the quest for total democratic expression which the students' leaders concentrated on and the media generally followed.
One gets a feeling for the insecurity of not just the student protesters but many young people in Hong Kong. Job security and relative scarcity given the high education standards of the general population – Hong Kong now has nine universities (eight public, one private) – not made easier by a distrust of big business or by the fact that many of the better jobs are going to graduates and the skilled from Mainland China.
Although not said directly, the article strongly hinted that younger people in Hong Kong have different – and higher – expectations than their older compatriots. These have clashed awkwardly with certain policies of the Special Administrative Region's (SAR) Government and most definitely with the bounds which the People's Republic of China (PRC) is willing to tolerate.
Part of this is a legacy from British and Communist China's perceptions of Hong Kong during and prior to talks over its future in the 1970s and 1980s. There is no doubt that Hong Kong's development could have been imagined when the 1984 Agreement was negotiated between Britain and China and signed by Prime Ministers Zhao Ziyang for the PRC and Margaret Thatcher for the UK.
Hong Kong is not simply much more prosperous but most of its younger generation – under the age of 40 - have not known the struggle and poverty of their parents and do not share with the older age groups the ties to Mainland China. They are Chinese by race but "Hong Kongers" by "nationality". They look outside a Chinese framework for inspiration, for their sense of where they are, or want to be in the world, even in trivial things like fashion. Too many of them don't want to be part of China and wish Hong Kong to remain separate – for ever!
For most of them, fate, and China, have other plans. It is time for those who are persisting in occupying parts of Mong Kok and Admiralty to change tack and to recognise the limits of their actions. Some 70 per cent of Hong Kong's population no longer support their continued obstinacy – they have greatly harmed many small businesses, not the despised tycoons and it is now often reported that those still taking part in the Occupy Central, are from well-off families or they could no longer carry on their actions.
If any further proof that a change of direction is required, the popularity of C Y Leung has "soared" to over 40 per cent and his Administration has won the legal battle in the High Court. Radio Television Hong Kong reported on 11 November that the police may be prepared to act as soon as 13 November.
In Beijing meanwhile, as the world's financial media report a possible future trillion dollars of trade Hong Kong's democracy can expect at best a polite mention.