A Mauritanian court will re-examine the case of a young blogger, Mohamed Cheikh Ould M'khaitir, who is facing execution following his death sentence for "apostasy" – the abandonment of Islam.
In a case that has shaken the nation, the young Mauritanian blogger and engineer was sentenced to death for apostasy in December 2014 over the publication a year earlier of an article entitled "Religion, Religiosity and Craftsmen" on the Aqlam Horra news website. Islamic organisations in mainly Muslim Mauritania said that the article constituted an "insult" to Islam and the Prophet Muhammad.
The nation's Supreme Court on Tuesday (31 January) had two options: either confirm or reverse the 21 April 2016 Appeal Court's decision to overturn M'khaitir's death sentence.
At the time, the Appeal Court had reclassified the charges against the young blogger from "apostasy" to "unbelief (of Allah)" – a lighter charge. As part of its ruling, the Appeal Court had also taken into account M'khaitir's repentance, and had demanded that the Supreme Court made a ruling on M'khaitir's "sincerity".
In a move many have described as an attempt to get rid of the sensitive case that has lasted more than three years, the highest court yesterday decided not to settle the debate, instead sending it to another court of appeal composed of other judges. The motive? The Supreme Court found that the Court of Appeal had failed to properly apply the law. This echoes rights groups claims that M'khaitir's trial included several procedural irregularities.
The new date for the trial has not yet been announced. M'khaitir's remains behind bars, as he enters his fourth year in prison.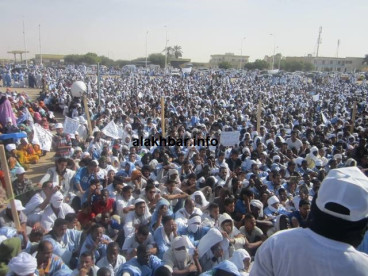 "He has spent much of that time with a death sentence hanging over him. He has been dragged through every level of the court system. The Supreme Court has repeatedly delayed judgement. And once again yesterday's decision passes the buck back to the lower courts, which could mean many more months, even years behind bars," Bob Churchill, director of communications and campaigns at the International Humanist and Ethical Union (IHEU), exclusively told IBTimes UK.
"That he remains in this legal limbo for years on end is an abomination."
The pressure on the blogger's case is immense. The authorities, which have portrayed themselves as a committed ally in the fight against the regional jihadi threat, face increasing pressure from Mauritania's growing religious right, which is calling for the blogger's execution.
"Huge crowds of protesters turned up at court again yesterday demanding M'kheitir's execution. So the Supreme Court may know very well that no justice is served by punishing M'kheitir, but are perhaps unable to release him for fear of what will happen, either to him, or to themselves, while this crowd demands blood," Churchill explained. "This of course is exactly what the clerics and radical Islamist groups appearing on TV and social media want."
International pressure has rebounded at each of M'khaitir's hearings, with advocacy groups urging his release.
"The authorities must ensure that M'kheitir is released, and that when he is released he is afforded the very highest protection or granted passage to a safe country. It should not need to be the case that innocent people need such protection. But that is the situation we're in. The government has a duty of care and a responsibility to uphold human rights and it is failing in this responsibility."