Apple has confirmed that it will offer gift cards with purchases of iPads and MacBooks, though won't offer discounts.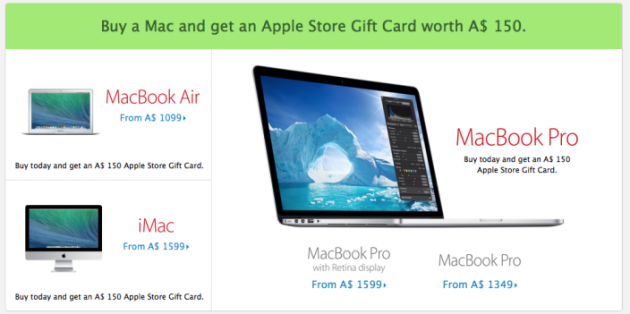 Apple's Black Friday deals are among the most highly anticipated announcements ahead of the big US shopping holiday, but those waiting for discounts on Apple's premium products will be disappointed, as it is only offering gift cards as a bonus to those purchasing iPads, MacBooks, iMacs and iPods.
The deals are yet to go live in the UK - though Apple has confirmed it will be offering the deals on this side of the Atlantic too - having first been made available to those in Australia.
Down under, everyone buying a MacBook or iMac will receive a bonus A$150 (£84, €100) gift card to spend in an Apple Store, through Apple's online store, in the App Store or on iTunes.
Those buying the iPad Air of iPad mini will get half that amount (A$75) while iPod purchases will get a A$50 bonus gift card.
While Apple traditionally offered discounts of around 10% on retail prices, the gift card deal will make sure customers return to Apple stores and remain loyal to the brand - something Apple is very keen to maintain.
Black Friday deals on Apple products will be available elsewhere (such as Amazon) and are likely to include discounts, but such is the premium value associated with Apple products, these discounts are unlikely to be very big.
Read more: