The doormen and personal shoppers of Jimmy Choo and Victoria Beckham's boutique looked on in confusion as a dozen scruffy men queued up at Mayfair's Dover Street Market across the road.
They and IBTimes UK were queuing for the Apple Watch, despite the high-end fashion shop's website stating it would sell the new gadget exclusively to customers with a reservation made by telephone.
That line opened at 9:50am on 24 April and, as couriers knocked on the doors of Watch customers across the country, the queue of fanatics, told Apple's own stores would have absolutely no stock today, started dialling. Eight members of staff laid on by the boutique to man the lines were no match for the onslaught. People dialled and redialled endlessly, One man called unsuccessfully more than 500 times.
As we know, Apple fans love a queue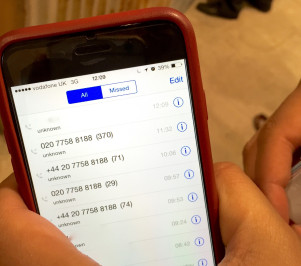 When one queuer finally got through he was told the store wouldn't be able to see him for three days – and no sooner had he accepted the offer, his phone, still connected to the store, was passed along the queue to let others book their own appointments to buy the Watch.
Some were more fortunate. One, an 18-year-old man called Ali Goksal, had queued with his mother since midnight and patiently waited 10 hours for the shop's phone line to open. He made 140 phone calls before getting through and was able to walk in to buy his Watch a few minutes later. All this was despite Dover Street Market's website kindly telling customers not to queue. But if we know anything at all about Apple fans, it's that they love a queue.
It soon became apparent that queueing all day and calling up relentlessly was not acceptable behaviour for this part of town, a stone's throw from The Ritz. With passers-by asking staff what was going on, a tidy up was in order. Some velvet rope was drafted in to form a small waiting area and those loitering around with their fingers glued to the redial button – again, IBTimes UK included – were politely kettled to one side.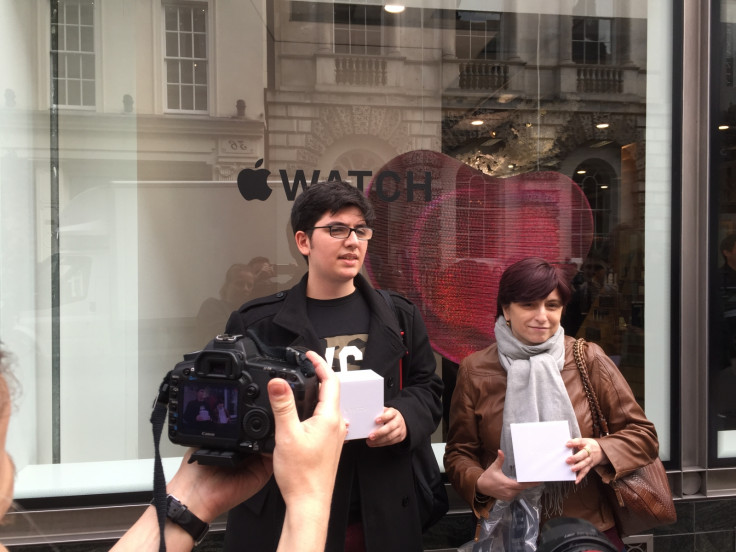 Store staff said they would try their best to accommodate us, but couldn't guarantee an appointment today. We waited. We made small talk. We redialled. The world's media (okay, a film crew from a US TV network and a reporter from Sweden) filmed us and wondered why.
Eventually, after around 45 minutes, the first half-dozen were allowed in, upon which we were introduced to a member of Dover Street Market staff, then an Apple employee, then another member of Dover Street Market staff. It was all fairly confusing and no we don't want to try it on we just want to buy, goddammit, take my money.
An employee went to fetch the model I asked for, but returned empty-handed and apologetic. Staff didn't seem to know how much stock they had left – reports claimed the shop had 570 Watches, but no one was able to confirm this, other than all agreeing there wasn't much to go around. As I waited, it was clear we technology fans didn't really fit in. A mash-up of wealthy individuals, shop regulars and buyers browsing on behalf of their clients were witnessing the invasion of Apple and its loyal followers.
Successfully returning with my second choice, I was then invited to join a final queue to pay. This is also where store staff were helping customers set up their new Watch, which in many cases meant connecting to the store's Wi-Fi and installing the latest iOS update, before starting the 10-minute set-up process. Concerned my editor might start to think I'd gone for a very long breakfast, I skipped this and left with a 42mm Watch and black Classic Buckle strap.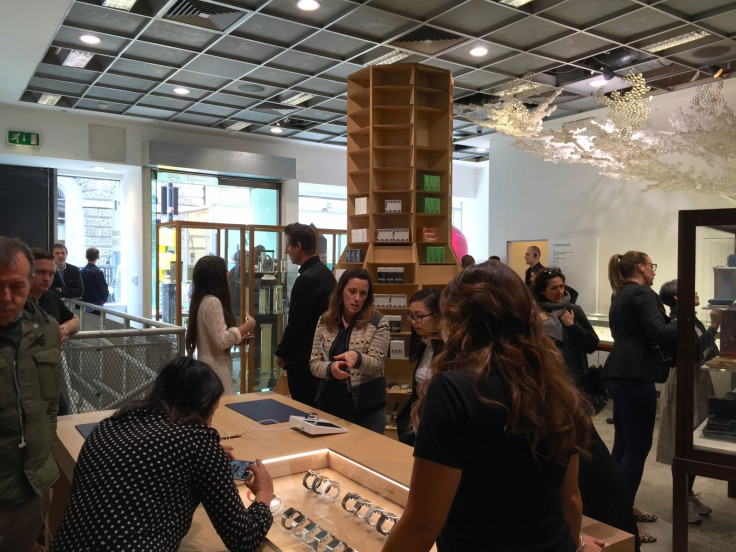 Apple made a conscious decision to change how it sold the Watch. It could have invited fans to queue up for days outside its Regent Street and Covent Garden flagships, complete with cheering, applauding staff and masses of reporters capturing the moment the first happy shopper walked in. But no, those happy shoppers are at home, waiting for the postman to knock while a few rebels hung around in a street they didn't belong and bombarding the phone lines of a shop they'll never visit again.
I can't decide if Apple or its customers are the stranger of what is clearly a bizarre relationship. The company's retail chief says blockbuster product launches will return, so maybe this was a one-off, but for now all I can do is wonder if there is any other brand in the world which could attract so much attention.