Apple has flung open the doors to the third branch of its App Store, making some 3,000 Apple Watch apps available to download now.
The Watch went on sale today, 24 April, in nine countries but for the first time in recent memory there will be no fanfare and no queues of thousands of Apple fanatics gathering outside its iconic retail stores. Instead, there will be no Apple Watch stock at launch, and instead all sales are being handled online.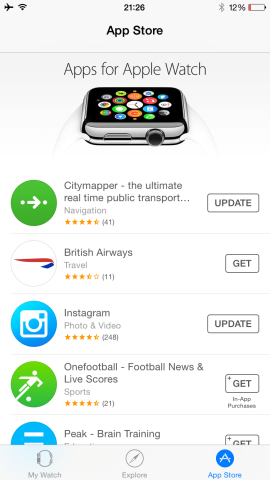 A companion app for the Watch, which was installed onto all compatible models of iPhone earlier this year, now gives users access to the new branch of the App Store.
Apps from British Airways and easyJet bring boarding passes to Watch; Hailo brings black cab ordering; Wunderlust, Evernote an Things offer do-to lists, and Citymapper shows directions for all means of public transport in London and Manchester.
Tapping on the app's icon in the store (right) shows a description of the app, along with screenshots of how it looks running on the Watch.
Apple says some 3,000 apps will be available for early adopters of the Watch to download immediately, the Wall Street Journal reports.
Apps for Watch come as part of their iOS companions - download a Watch-compatible app to your iPhone or iPad and your Watch gets its own version of the app.
Apple has told developers to create apps which require no more than 10 seconds of use each time they are opened on the watch, in an attempt to conserve battery life - claimed by Apple to be 18 hours.