Apple has increased the prices of select iPhone and iPad models in Germany to comply with the new private copyright levies imposed by German trade associations, Bitkom and ZPU. Consequently, the iPhone 6s, 6s Plus and 5s models now cost 5 euros more on each model, while the iPad Air 2, iPad Air, iPad mini 4, iPad mini 2 and iPad Pro models cost around €8 more compared to 31 December prices on the Apple Online Store.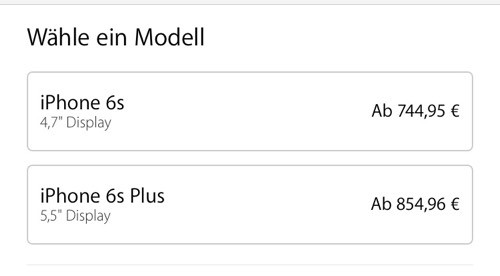 The price increase is effective from 1 January, which is in line with Germany's new copyright levies that manufacturers and importers must pay to sell recordable media devices for private and commercial use.
As Apple is a Bitkom member, it is eligible for reduced fee-charges amounting to €5 for mobile phones and €7 for tablets. On the other hand, non-members will be charged copyright fees of up to €6.25 per mobile phone and €8.75 per tablet.
According to Apfelpage.de, the entry-level iPhone 6s 16GB model now costs €744.95 as opposed to its previous selling price of €739 on the German Apple Online Store, while the iPad Pro is now selling at €907.33 instead of €899 for the entry-level model.
Apple has also been paying a similar private copyright levy of €10.55 on Macs in Germany, since 2010.