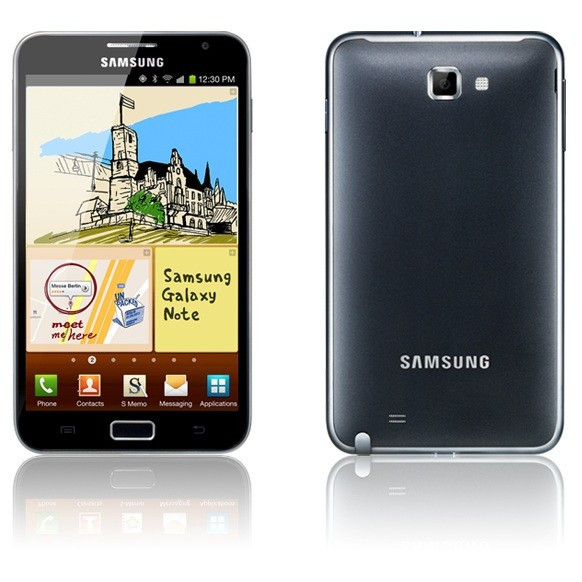 Apple iPhone 4S Competitor the Samsung Galaxy Note Debuts Tonight
The first of Samsung's next wave of anti-Apple smartphones, the Galaxy Note is set to be unveiled in London on 27 Oct., leading to fresh speculation whether Samsung's new plus-sized smartphone will be able to carve out its own section of the already packed high-end device market.
The Galaxy Note

Though shown off much earlier in 2011, the main selling point of the Note remains its size. Samsung's Note is big, very big in fact, measuring in at 46.85 mm by 82.95 mm.
Yet beneath the plus-sized exterior of this behemoth smartphone, the spec listed by Samsung remains fairly impressive. The Note is listed as packing an impressive 1.4GHz Dual Core Processor and 5.3 inch Super AMOLED screen.
As shown in the promotional video below the device will also come loaded with a special "advanced smart pen" -- which despite being a fancy Wacom ultra high tech piece of equipment, seems to do pretty much the same thing as every other stylus ever made but hey, with a phone this big it could be useful.
The device will also house a front facing two-megapixel camera and eight-megapixel rear snapper capable of 1080p Full HD video recording & playback.
Unfortunately, the Note is currently listed as coming pre-loaded with Android Gingerbread, not Google's recently unveiled and much tastier looking Ice Cream Sandwich.
Strong Competition
Despite looking actually rather good, analysts and critics have been divided when it comes to sales estimates. Not only is the Note arriving just after Apple's already record-breaking iPhone 4S, but also just after Samsung unveiled its other, more widely known, high-end Galaxy Nexus.
As was expected, Samsung unveiled its Galaxy Nexus smartphone at the event. In keeping with previous rumours, Samsung confirmed the device will be the first smartphone powered by Google's Android 4.0 Ice Cream Sandwich OS.
Set for release in November, the device will be fairly fast, packing a 1.2 GHz dual-core processor. Yet, despite its power, like the Note, the new Nexus screen is its primary selling point.
The new Nexus will pack a whopping 1280 x 720, 4.65 inch Super AMOLED screen, running at a native 720p resolution -- basically meaning the display will be so sharp it could slice a melon.
Add to this the news that Apple's iPhone 4S has already broken numerous sales records, boasting one million pre-orders in its opening 24 hours before breaking the three million sales mark by the end of its first week and can understand analysts' apprehension.
Stay tuned at the IBTimes for a more complete look at the Galaxy Note later in the week, when we get our hands on the gargantuan device and offer you our initial impressions.