As expected, Apple has finally revealed the iPhone 7 Plus. It sits alongside the iPhone 7 and iPhone SE as part of the company's 2016 smartphone lineup. The 7 Plus has the same 5.5in screen as the phone it replaces, and the design is similar too, but as with the smaller iPhone 7, the biggest changes are on the inside.
There is a new processor, more storage, waterproofing and a dual-lens rear camera not available on any other iPhone. First, let's look at the specifications of the two phones to work out what has changed with the iPhone 7 Plus.
iPhone 6S Plus vs iPhone 7 Plus: The specifications
| | | |
| --- | --- | --- |
| | iPhone 6S Plus | iPhone 7 Plus |
| Screen size | 5.5in | 5.5in |
| Screen resolution and pixel density | 1080 x 1920, 401 per inch | 1080 x 1920, 401 per inch |
| Size | 158.2 x 77.9 x 7.3mm | 158.2 x 77.9 x 7.3mm |
| Weight | 192g | 188g |
| Storage options | 16, 64, 128GB | 32, 128, 256GB |
| Cameras | 5MP front, 12MP rear | 7MP front, dual 12MP rear |
| Processor | Apple A9 | Apple A10 Fusion quad-core |
| Battery | Up to 24 hours 3G talktime | Up to 21 hours 3G talktime |
| Ports | Lightning and headphones | Lightning |
| Colour options | Space Grey, Silver, Gold, Rose Gold | Black, Jet Black, Silver, Gold, Rose Gold |
| Price from | £599 | £719 |
On paper, the iPhone 7 Plus has a few notable upgrades. Apple claims the new A10 Fusion quad-core processor is 40% faster than before, while all storage options have been doubled and there are two new colour options in the form of Black and Jet Black.
As for design, the iPhone 7 Plus looks a lot like its predecessor, but there are some subtle changes. Some antenna lines have been removed from the rear, there are two new colour options, and the headphone jack has been removed. Instead, headphones can be connected via Bluetooth or through the Lightning port.
A big upgrade is waterproofing, which means the iPhone 7 and 7 Plus are IP67 rated and can survive a drop into around a metre of water for up to 30 minutes.
The home button has also been redesigned. It no longer moves and instead provides haptic to let you know you have pressed it.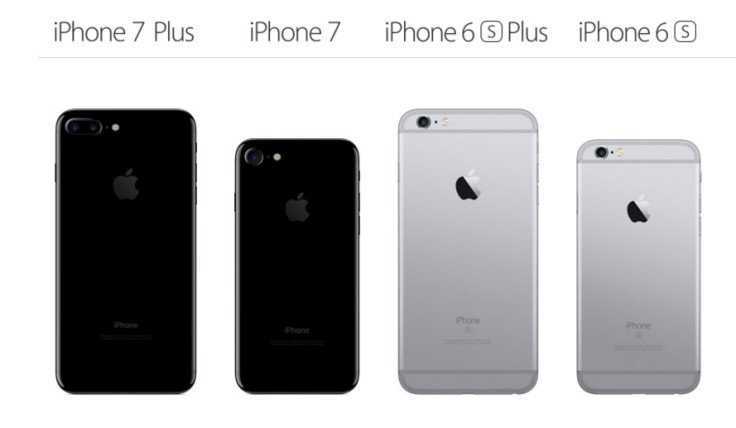 iPhone 6S Plus vs iPhone 7 Plus: Display
For the second year running, Apple has left the iPhone's display alone. It is the same size (5.5in) and resolution (1080 x 1920) as the previous two generations of iPhone Plus, and has the same 3D Touch technology as the 6S Plus from last year, where some aspects of the phone can be controlled based on how hard you press the screen.
iPhone 6S Plus vs iPhone 7 Plus: Cameras
While both models of iPhone have received an improved rear camera for 2016, it is the 7 Plus which gets the better deal. Apple has installed two rear lenses to bring optical-style zooming and a greater depth of field to images. A new 12-megapixel sensor which is 50% faster and 30% more power efficient sits behind each lens; one lens is wide angle while the other is telephoto. This means the 7 Plus can offer 2X optical zooming and add 'bokeh' to images, where the foreground or background can be blurred out of focus, like with a digital SLR camera.
It's a trick other phones like the HTC One M8 and LG G5 have done before, so we can't wait to see if Apple's efforts are the best. Naturally, it's a shame that the better camera isn't included on the smaller phone, but if the bigger screen wasn't enough to make you want the Plus before, the new camera might just seal the deal.
iPhone 6S Plus vs iPhone 7 Plus : Storage and colour options
As we mentioned above, Apple has finally increased the minimum storage option from 16 to 32GB. It has also doubled the midrange to 128GB and doubled the high-end model to a massive 256GB.
With the iPhone 7 and 7 Plus it is time to say goodbye to the Space Grey colour option. Instead, there are now two versions of black (regular matte and a glossy option called Jet Black) to go alongside Silver, Gold and Rose Gold. It is worth noting that Jet Black is not available on the entry-level 32GB model.
iPhone 6S Plus vs iPhone 7 Plus: Price
Apple has lowered the price of the 6S Plus and stopped selling the 16GB model.
| | | |
| --- | --- | --- |
| | iPhone 6S Plus | iPhone 7 Plus |
| Entry level | 16GB - No longer for sale | 32GB - £719 |
| Midrange | 64GB - £599 | 128GB - £819 |
| High-end | 128GB - £699 | 256GB £919 |