Apple's iPhone 6s is placed second with a score of 27,646 while Microsoft's Surface Pro 3, with a score of 48,173 tops benchmark tests in overall performance. Xiaomi's Mi Note Pro (26,705) and Google Nexus 9 (25,601) are other major handsets scoring high.
However, the tests run by AnandTech put the iPhone 6S and the iPhone 6S Plus ahead of rivals in a number of categories. The devices outscore some powerful devices such as the Xiaomi Mi Note Pro, Google Motorola Nexus 6, Samsung Galaxy S6, Samsung Galaxy S6 Edge Plus, Samsung Galaxy S5, Huawei Ascend Mate 7, HTC One (M9) and Apple's own iPhone 6/6 Plus among other handsets on parameters such as battery life and memory read/write speeds.
Check out the benchmark tests below: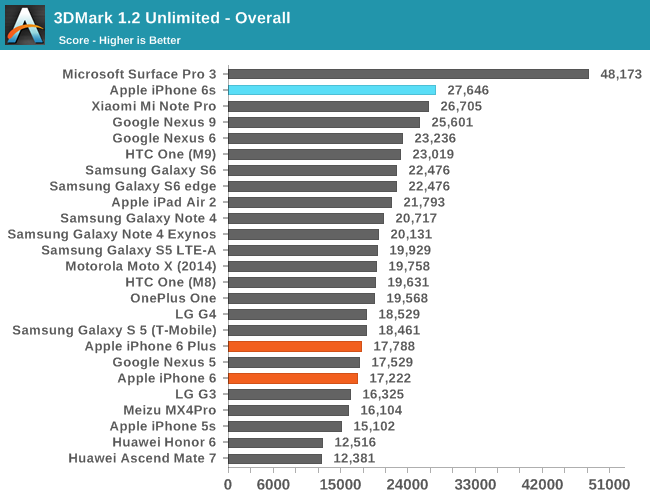 Battery life when connected to an active Wi-Fi network
The iPhone 6s scores 13.72 out of 15 in the battery life test. Huawei's Ascend Mate 7 comes a close second with a score of 13.55, followed by the relatively new entrant Meizu MX4 Pro and the OnePlus One. High-enders such as the Samsung Galaxy S6 Edge, Galaxy Note 4, Xiaomi Mi Note pro and the Microsoft Surface Pro 3 (tablet) are shown as being way behind.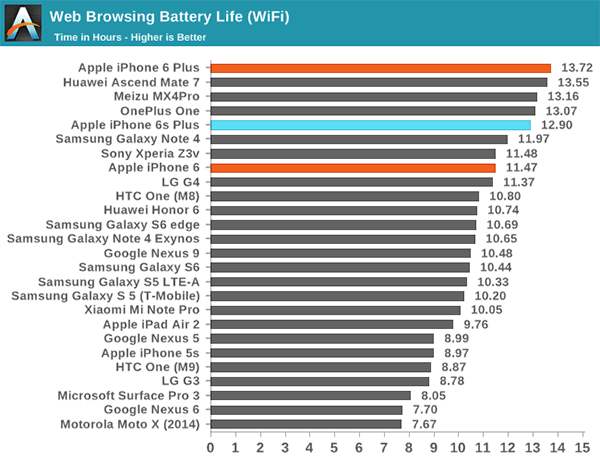 Web-browsing benchmarks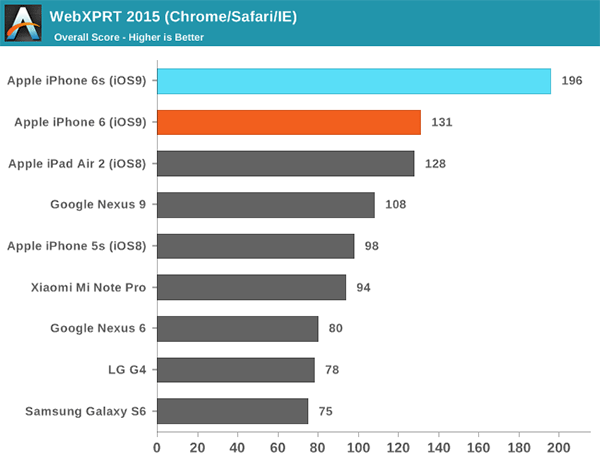 The iPhone 6S is ahead in web browsing as well. Browsers considered were Google Chrome, Internet Explorer and Apple's own Safari. The iPhone 6S Plus (running the latest iOS 9) scores 196 out of 200. Apple's own iPhone 6S (on iOS 9), the iPad Air 2 (running iOS 8) and Google's Nexus 9 are the other top devices. Samsung's Galaxy S6 and the Xiaomi MI Note Pro are shown as lagging.
Memory read/write performance: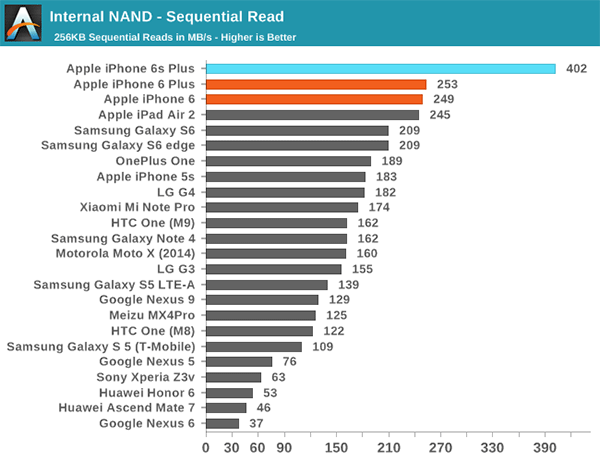 In memory read/write performance, the iPhone 6s Plus (402) is ahead of handsets such as the iPhone 6 Plus (253) and the iPhone 6 (249). Samsung's Galaxy S6 and the Galaxy S6 Edge score 209.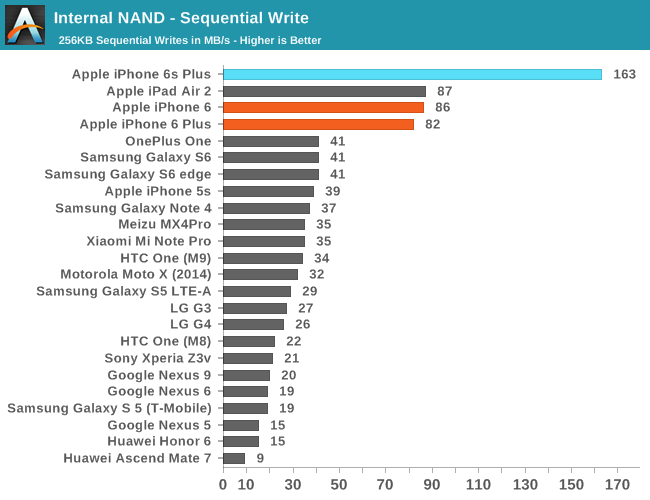 In sequential write, the iPhone 6s scores 163 ahead of the iPad Air 2 (87), the iPhone 6 (86), iPhone 6 Plus (82) and the OnePlus One (41). However, the iPhone 6s Plus is behind rivals in Internal NAND- Read/Write benchmark tests.