We compare the Apple iPhone 5 with one of the best Android phones on the market, the HTC One X.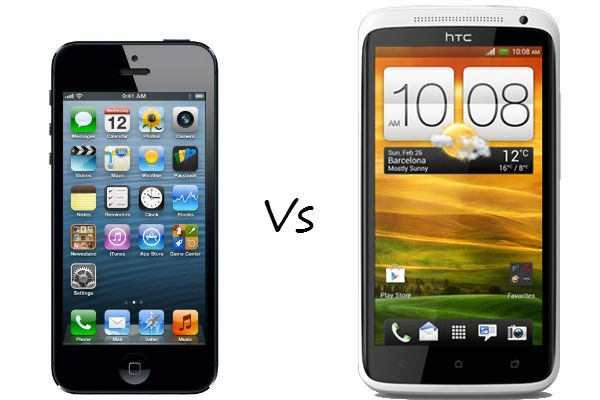 As expected, Apple announced its sixth generation iPhone - the iPhone 5 earlier this week on 12 September. The new iPhone is the thinnest and lightest iPhone ever. The smartphone features a 4in high resolution Retina display, Apple's A6 chipset for faster performance, as well as faster wireless connectivity.
The 16GB version of iPhone 5 with a price tag of £529 (SIM-Free) will be available for pre-order from 14 September and will be available to buy from 21 September in the UK. The 32GB version is priced at £599 and the 64GB at £699.
"iPhone 5 is the most beautiful consumer device that we've ever created. We've packed an amazing amount of innovation and advanced technology into a thin and light, jewel-like device with a stunning 4in Retina display, blazing fast A6 chip, ultrafast wireless, even longer battery life; and we think customers are going to love it," said Philip Schiller, Apple's senior vice president of worldwide marketing.
Earlier this year the HTC One X was released featuring a quad-core processor, 4.7in screen and Android 4.0. While it is yet to get upgraded to Android 4.1, it is still one of the leading smartphones on the market, and therefore a viable option to when considering buying a new phone.
Here, we take a look how Apple's iPhone 5 stacks up against the One X:
iPhone 5 vs One X: Display
The One X features a 4.7in Super IPS LCD 2 display which is protected by Corning Gorilla Glass and uses Android 4.0 skinned with the HTC Sense user interface (UI).
The resolution of the display is 720 x 1280 pixels giving it a pixel density of 312 pixels per inch (ppi). The IPs technology used give the One X's display great viewing angles while maintaining accurate colour reproduction and colour temperature. The One X, with its high pixel density, offers an experience on a par with Apple's Retina display.
Speaking of which, the newly launched iPhone 5, in contrast, features a 4in multi-touch Retina display. The resolution of the Retina display is 640 x 1136 pixels with a pixel density slightly more than One X, at 326ppi.
As far as the screen size of iPhone 5 is concerned, the sixth generation iPhone marks a significant improvement over iPhone 4S (3.5in display). It seems as if Apple has seen the light, and to rival its competitors in the smartphone market, has decided to have a bigger display for iPhone 5.
iPhone 5 vs One X: Dimensions
The HTC One X measures 134 x 70 x 8.9mm whereas the iPhone 5 measures 124 x 57 x 7.6mm in thickness. The iPhone 5 is 18g lighter than the One X at 112g. Apple boasts that the iPhone 5 is the thinnest smartphone in the world and is 18 percent thinner and 20 percent lighter than iPhone 4S.
While the One X is by no means a bulky phone, the extra 13mm width is what makes a big difference. Apple has not changed the width of the iPhone in its most recent version, meaning one-handed use is still easy. We sis struggle at times to operate one-handed with the One X.
iPhone 5 vs One X: Operating System
HTC One X was launched with Android 4.0 (Ice Cream Sandwich) and recently HTC released Android 4.0.4 update to One X. The Taiwanese company has revealed that it has plans to upgrade HTC One X along with One XL and One S to Android's latest software version - 4.1 (Jelly Bean).
The iPhone 5, in contrast, will run on iOS 6 from the start, which was announced at company's WWDC conference in June. The latest OS promises more than 200 new features including a new mapping app, turn-by-turn navigation, Facebook integration for contacts and calendar, enhanced notification centre, and Siri (with support for more languages, gives easy access to sports scores, restaurant recommendation and movie listings).
For a full comparison of Android 4.1 and iOS 6 check out our feature here.
iPhone 5 vs One X: Processor
The One X is powered by the Nvidia Tegra 3 SoC which features a quad-core processor and ULP GeForce graphics unit. The processor runs with a clock speed of 1.5GHz.
This is the similar processor that powers a number of high-end smartphones. A benchmark test suggests that the One X with its Tegra 3 chip performed fairly well although could not beat One S - which scored highest in the test.
The iPhone 5 is powered by an A6 chip which according to Apple is designed to maximise performance while at the same time consume less power. The new processor possesses twice the CPU capability as well as twice the graphics performance compared to the iPhone 4S.
This should provided the ability to launch apps, load web pages and download email attachments a lot faster.
iPhone 5 vs One X: Camera
The One X features an eight megapixel rear-facing camera with technologies including auto-focus, LED flash, simultaneous HD video and image recording, geo-tagging, face- and smile-detection. The camera can record video in 1080p at 24 frames per second (fps) with stereo sound recording and video stabilisation.
In addition the device features a 1.3 megapixel front-facing camera which can capture video in 720p.
iPhone 5 has an eight megapixel iSight camera with technologies including auto-focus, LED flash, Panorama mode, tap to focus video, face detection in video, enhanced video stabilisation and geo-tagging. The camera can capture video in 1080p at 30fps.
There is an 1.2 megapixel FaceTime camera on the front which can also record video in 720p at 30fps.
Although the iPhone 5 features a similar resolution rear-camera as the iPhone 4S, Apple claims that iPhone 5's camera is completely redesigned with optical performance and is 25 percent smaller compared to the camera of iPhone 4S.
Furthermore the new iSight camera of iPhone 5 features a sapphire crystal lens cover which is thinner and durable and provides crystal clear images - and can take images 40 percent quicker.
iPhone 5 vs One X: Connectivity
The One X offers Wi-Fi 802.11 a/b/g/n, Wi-Fi Direct, DLNA, Wi-Fi hotspot, Bluetooth v4.0 with A2DP. It supports data speed up to HSDPA (21 Mbps) and HSUPA (5.76 Mbps).
The iPhone 5 offers Wi-Fi 802.11 a/b/g/n, dual-band Wi-Fi (2.6GHz and 5GHz), Bluetooth v4.0 with A2DP. The big advantage the iPhone has is its support for 4G networks, including the UK's first high-speed mobile boradband network from EE.
While the One X offers Near Field Communication (NFC), Apple decided instead to stick with its Passbook mobile payment software which is included in iOS 6. The Passbook relies on transmitting payment data through codes on the iPhone 5's display.
iPhone 5 vs One X: Storage
The One X offers only one internal storage option of 32GB. The iPhone 5 will be available in three storage options at 16GB, 32GB and 64GB. Neither of the smartphones supports a microSD card.
iPhone 5 vs One X: Battery
The One X is powered with a 1800mAh. A battery test suggests that the One X survived for four hours and 22 minutes of continuous streaming video at maximum loud speaker volume and at maximum screen brightness while connecting to both Wi-Fi and 3G. The battery lasts for 13 hours and 38 minutes of continuous Riptide gameplay.
As usual Apple did not confirm the battery capacity of iPhone 5 but the product page suggests the battery will offer eight hours talk time, browsing on 3G, eight hours of browsing on LTE and 10 hours of browsing on Wi-Fi.