Apple recently unveiled its flagship smartphone of the year, iPhone 5s featuring the new A7 system on a chip (SoC), making it the fastest smartphone with 64-bit architecture for fast performance. The iPhone 5s also integrates M7 motion coprocessor, which offload work from the A7 for improved power efficiency. The new iPhone, as claimed, delivers twice the CPU and graphics performance.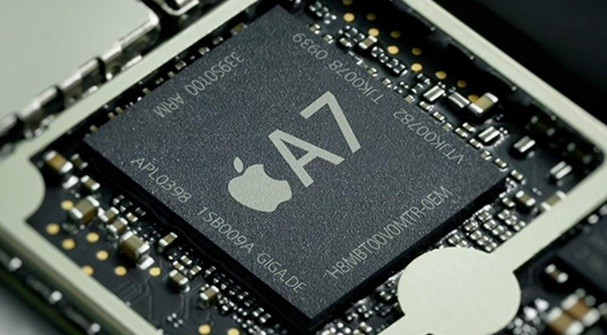 Following Apple's official announcement, AnandTech has conducted a series of benchmark tests based on the processor and graphics performance of new iPhone 5s powered by dual-core A7 processor.
CPU performance
In the SunSpider Javascript Benchmark 1.0, the dual-core A7 of iPhone 5s turned to be the fastest SoC, even outpacing the new Snapdragon 800 and ARM's Cortex A15. The SunSpider is a JavaScript benchmark designed to compare different versions of the same browser and different browser to each other. The iPhone 5s occupied the first place beating all rivals in the benchmark.
Next is the Mozilla Kraken (Benchmark 1.1), a JavaScript benchmark, in which the dual-core A7 processor of iPhone 5s falls second to Intel's Bay Trail processor (Atom Z3770), which was the winner in the test. However, the A7 performed better than the devices running on Snapdragon 800 and Cortex A15. The new iPhone showed up to over 2.3x the speed of its predecessor, iPhone 5 in the same test.
In the Octane benchmark that measures a JavaScript engine's performance, Intel's Bay Trail again topped the chart followed by the iPhone 5s. However, Apple's handset was much ahead of its rivals such as Galaxy S4, iPhone 5, iPhone 5c, HTC One, Google Play Edition of HTC One and LG G2.
The device performed fairly well in the Browsermark, a browser test. The iPhone 5s was the winner in the test scoring highest points at 3,451. The benchmark notes 25% performance superiority of iPhone 5s over the iPhone 5, which runs with dual-core A6 processor.
GPU performance
The iPhone 5s is the first Apple device to ship with a PowerVR Series 6 GPU. Apple claims up to 2x increase in the graphics performance of iPhone 5s compared to the iPhone 5, which is well reflected through benchmarks.
To begin with the GFXBench 2.7 -Fill test, offscreen 1080p, which tests the GPU performance, the iPhone 5s outshined all devices while scoring highest points at 3, 304.5. This is twice the fill rate of iPhone 5.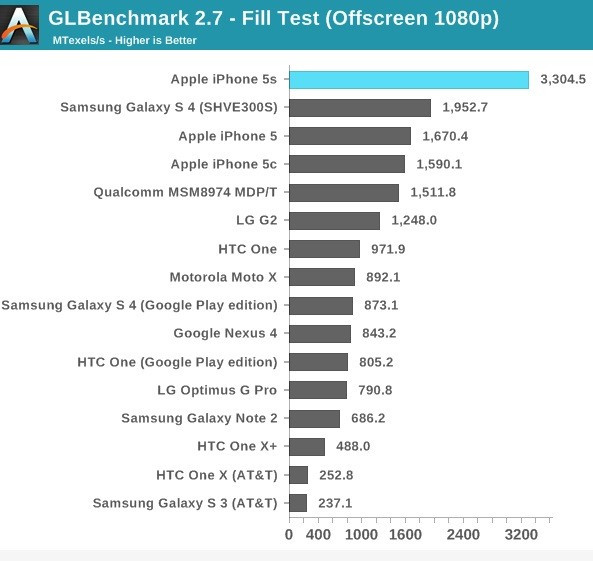 The smartphone performed quite well in the following two GLBenchmark 2.7 benchmarks (Triangle Throughput and Triangle Throughpu, Fragment Lit offscreen 1080p). Although, it failed to lead in both tests, which were occupied by the iPhone 5.
Apple's newest scored highest frames per second (fps), at 37.0 in the GLBenchmark 2.7 (T-Rex HD), which is again twice the speed of iPhone 5.
The iPhone 5s was just one fps behind the Qualcomm MSM8974 MDP/T, which was the winner in GLBenchmark 2.7 (T-Rex HD Offscreen 1080p). It managed to run 53 fps, which is the highest in Egypt HD benchmark.
The Adreno 330 graphics unit inside the MSM8974 MDP/T turned to be faster again in the Egypt HD offscreen 1080p benchmark. The iPhone 5s was just 11 fps behind Qualcomm's tablet.
Also read: iTunes 11.1 Kills Custom IPSWs for iOS 7, Claims Hacker