Can Acer's Iconia Tab A700 Outwit Apple and the New iPad?
Acer's Iconia Tab A700, the second by the company to be powered by Nvidia's quad-core processor, was unveiled on 13 June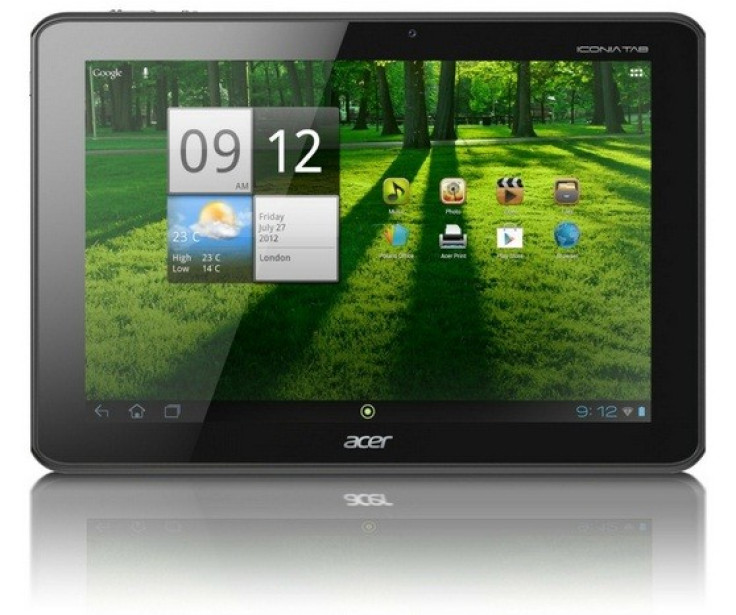 The Acer Iconia Tab A700, with a 10.1in full HD 1080p display, was unveiled in June and comes with a suggested retail price of $450 (approximately £290). The tablet comes in two colours - silver and black - and is the second of the company's products to be equipped with Nvidia's quad-core processor. In addition, it runs the Android 4.0 (Ice Cream Sandwich). It features a high-resolution display and Dolby Mobile 3 with 5.1 Channel Dolby Surround Sound capabilities. In addition, users can share video on other monitors via the tablet's built-in micro HDMI port.
"Customers have embraced their tablets as a mobile hub for their daily lives, and the full HD display on the Acer A700 will give customers a fresh new respective on the apps, games and digital media they enjoy. Customers looking for a no-compromise tablet will get the features and performance they want in A700," said Paul Tayler, Director of Product Marketing for Connected Devices, Acer America.
Check out how Acer's tablet does against what must surely be the benchmark in this field, the new Apple iPad (two models - Wi-Fi and Wi-Fi + Cellular), which was unveiled in March...
Display
The Acer Iconia Tab A700 features a 10.1in HD 1080p LED backlit display with a resolution of 1200 x 1920 pixels. It is believed to be capable of delivering 55 percent higher pixel density, compared to 800 x 1200 displays. The display has a 16:10 ratio and provides 178-degree viewing angles.
The new iPad has a slightly smaller (9.7in) LED-backlit multi-touch, high-resolution Retina Display screen with In-Plane Switching (IPS) technology. The resolution is 1536 x 2048 pixels with a pixel density of 264 pixels per inch. The display features fingerprint-resistance oleophobic coating and supports multiple languages.
The Retina Display is one of the key features of the new iPad and a primary selling point. An analysis by AnandTech suggests the new iPad beats the ASUS Transformer Prime, the MacBook Air and the MacBook Pro for display capabilities.
Acer, on the other hand, boasts the Tab A700's display as a 10-point touch capacitive screen which delivers a remarkable degree of accuracy and responsiveness. A review by CNET states the Tab A700 is the first Android tablet to offer resolutions of 1200 x 1920; we should add this is still smaller than the new iPad.
Dimensions
The Tab A700 measures 10.2 x 6.9 x 0.43 inches and weighs 665g. In terms of design, Acer's is similar to the Tab A510 unveiled in March but the A700 tablet weighs less.
Both new iPad models measure 9.5 x 7.31 x 0.37 inches but the Wi-Fi model weighs 10g less than the other's 662g. both, incidentally, are heavier than the iPad 2. Indeed, they weigh more than even other tablets like the ASUS EeePad Transformer Prime (568g) and Toshiba AT200 (558g), according to a review by Trusted Reviews.
Operating System
The Iconia Tab A700 runs Android 4.0 (Ice Cream Sandwich (ICS)), while the new iPad runs, obviously, Apple's iOS - v5.1. Apple's recently announced iOS 6 is expected to be made available to the new iPad sometime this fall.
Processor
The Iconia Tab A700 is powered by a Nvidia Tegra 3 quad-core mobile processor clocked at 1.3GHz. The device houses 1GB of RAM and the A700 is the second, after the A510, of Acer's products to pack that chip. The clock speed is marginally higher than the version used in the ASUS TF300.
The new iPad is powered by a dual-core Apple A5X custom-designed chip with quad-core graphics and 1GB of RAM. A benchmark test conducted for the new iPad revealed the processor's clock speed was 1GHz and was not upgraded to 1.2GHz or 1.5GHz.
Camera
The Iconia Tab A700 is equipped with a five megapixel rear-facing camera with auto-focus. This can capture videos at 1080p and 30 frames second (fps). The tablet also packs a front-facing camera of a single megapixel, which can capture video at 720p and 30 fps.
The new iPad, like the Iconia Tab A700, sports a five megapixel iSight camera in the front. This comes with auto-focus, Tap-to-Focus and Face Detection, all for photographs. It can record HD videos in 1080p and 30 fps, with audio. It also has a Face Time VGA-quality front camera.
Connectivity
The Iconia Tab A700 offers 802.11 b/g/n and Bluetooth version 2.1 with Enhanced Data Rate (EDR).
The new iPad offers Wi-Fi 802.11 a/b/g/n and Bluetooth version 4.0. The Wi-Fi + Cellular model can run on both AT&T and Verizon and offers Long Term Evolution (LTE) connectivity.
Storage
The Iconia Tab A700 comes with 32GB flash storage option and offers a microSD card slot with additional space for 64GB. The new iPad comes in 16GB, 32GB and 64GB versions but unlike the Tab A700, does not support microSD cards.
Battery
The Iconia Tab A700 is powered by a 9800mAh battery - a similar unit to the one found in the A510. Acer claims the battery lasts for 10.5 hours of video playback and about eight hours of web surfing.
The new iPad is powered by a built-in 42.5 watt-hour rechargeable lithium-polymer battery. This compares favourably to the 25 watt-hour battery found in the iPad 2. The new iPad's battery can provide for up to 10 hours of web surfing, watching videos and listening to music.
© Copyright IBTimes 2023. All rights reserved.