The radical new Mac Pro, with its unique cylindrical design, will go on sale in December, priced from £2,499, Apple has announced.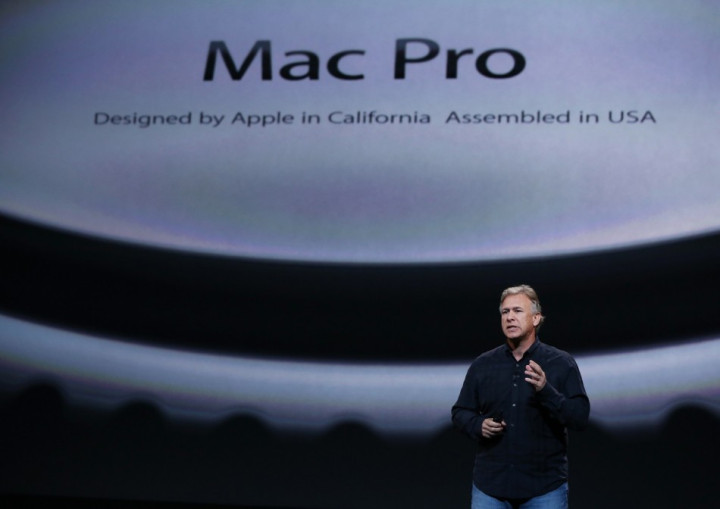 Speaking at a media event in San Francisco, the iPhone maker said the new Mac Pro, which has only been updated once since mid-2010, is all-new and will arrive before the end of the year.
Apple is yet to announce UK prices - IBTimes UK will update this story when we hear more details.
The base model is powered by a 3.7GHz quad-core processor with 12GB of RAM, 4GB of graphics memory, and 256GB of solid-state storage. Users needing more power can increase the specification to include a massive 64GB of RAM, 6-, 8-, or 12-core Intel Xeon processors, up to 6GB of dedicated graphics memory, and up to 1TB (terabyte, 1,000GB) of solid-state storage.
Apple claims the new computer can "seamlessly edit full-resolution 4K video while simultaneously rendering effects in the background."
First announced by Apple at its WorldWide Developer Conference in June, the new Mac Pro is significantly smaller than the model it replaces, having swapped the traditional and box-like desktop design for a compact cylinder shape which funnels air through itself to keep cool.
Quiet
Apple's Phil Schiller claimed the new Mac Pro, which is built in the US, is no louder than a Mac Mini when being used, and is said to be dramatically quieter than the previous Pro.
Apple has long been criticised for ignoring its professional customers, having updated the old Mac Pro just three times since the start of 2008. From 1 March this year, Apple was forced to halt European sales of the computer due to it not meeting new EU regulatory requirements.
The new Mac Pro is just an eighth the size of the outgoing model, but while the design could be seen as consumer-friendly, the computer is aimed at professionals, who demand increase processing performance for graphic production or video editing work.
Around the back, the Mac Pro has six high performance Thunderbolt 2 connectivity, four USB 3.0 ports, dual Gigabit Ethernet ports and HDMI output. When the computer is turned around, an accelerometer tells the ports to illuminate so you can easily see where to plug in new peripherals.
Read More: