Apple reveals how iPhone owners can soon send money to each other in text messages
Apple announces that iOS 11 for iPhone will include peer-to-peer payments with iMessage.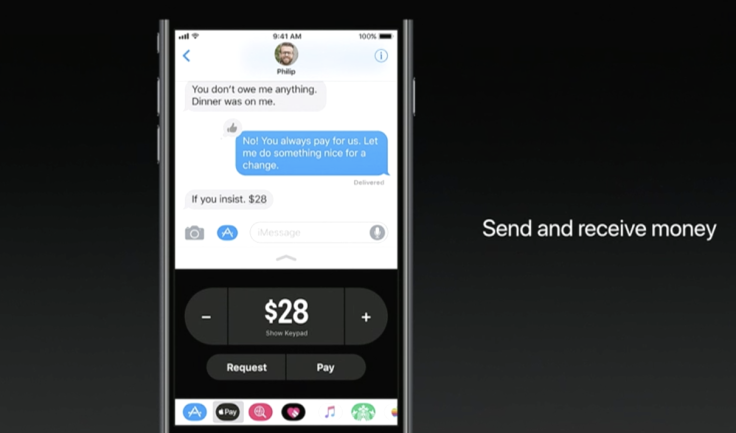 Apple has revealed a way for iPhone owners to send money to each other just like text messages by adding Apple Pay to the iOS Messages app.
Announced during a mammoth two-hour press conference at the start of the company's annual Worldwide Developer Conference, the new payment feature will be a part of iOS 11, which is available as a beta for developers now, and will arrive for consumers in the autumn.
Taking on peer-to-peer payment companies like Venmo and Square Cash, as well as mobile banking apps and PayPal, Apple Pay within Messages also recognises when you and a contact are talking about money.
Say a friend tells you your share of the pizza on Saturday was £8; iMessage recognises the language used and offers up the Apple Pay icon in the predicted words box.
Tap this, adjust a scroller to the right amount, the send the payment just like an iMessage. The money is then transferred from the bank account held in your iPhone's Wallet app, and lands in your friend's Apple Pay Cash Card, a new feature of Wallet in iOS 11.
This Cash Card is where payments sent through Messages are held, waiting to be sent on to another contact, or spent online using Apple Pay. Alternatively, the money can be transferred for free into your bank account.
© Copyright IBTimes 2023. All rights reserved.