Apple has revealed the new MacBook Pro, featuring a touch-sensitive display on its keyboard called the Touch Bar. The screen takes the place of the function keys and includes an integrated Touch ID fingerprint reader to buy goods online with Apple Pay.
Revealed at a media event at Apple's California headquarters, the new MacBook Pro is also slimmer, lighter and more powerful than its predecessor. It is the first update to the MacBook Pro range since May 2015, over 500 days ago and almost double Apple's usual update cycle for its professional laptop range.
Touch Bar is a multi touch second screen which replaces the top row of keyboard keys, until now home to the screen brights, volume and media playback keys.
These are still here, but are now displayed digitally and are replaced with other buttons and icons depending on what app the user is interacting with.
'Crazy' to keep function keys any longer
In relation to the deleted function keys, Apple executive Phil Schiller said Apple would be "crazy keeping 45-year old technology around and mapping other things to them."
Photos can be edited with swipes across the Touch Bar, Safari bookmarks can also be displayed here, and when typing the bar shows autocorrect options, like on the iPhone. The Touch Bar works on almost all of Apple's own applications, from Pages and Keynote to Photos, GarageBand and even Terminal.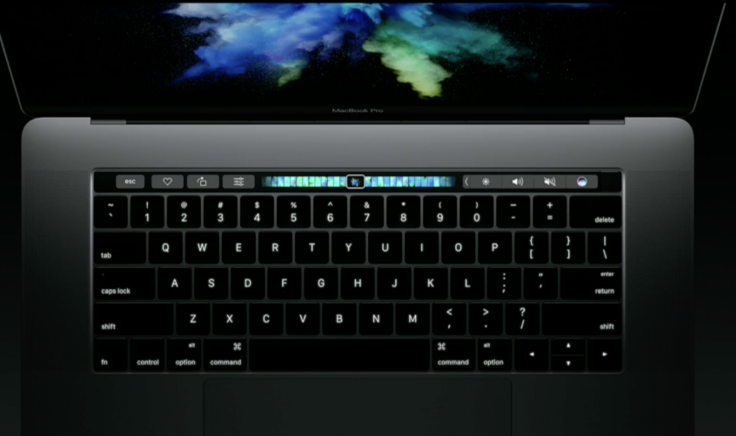 The Touch Bar sits above a keyboard which uses a second-generation of Apple's 'butterfly' key mechanism, and a new ForceTouch trackpad which is twice as large as before.
In a move which could potentially upset customers, Apple has made changes to the ports of the MacBook Pro. The HDMI port and MagSafe charging socket have been replaced by Thunderbolt 3 ports. These are all compatible, via adapters, with USB Type-C, HDMI, VGA and more, and any of the four Thunderbolt 3 ports can be connected to the charger.
There is no SD card slot, meaning photographers will have to use a cable or adapter to transfer files. Mercifully, the 3.5mm headphone jack remains despite rumours it too would be removed.
Much of the smartphone industry (apart from, ironically, Apple) is transitioning away from USB and towards USB-C, which is a reversible port that offers faster data transfer and charging times. The new MacBook Pro uses USB-C-friendly Thunderbolt ports to both charge and offer quicker data transfers from peripherals like cameras and iPhones.
Thinner, lighter, faster, slimmer
Apple says the new 13in MacBook Pro is 17% thinner and 23% smaller by volume compared to the previous model, while the 15in version is 14% thinner and 20% smaller by volume. Both models will be sold in silver and space grey.
The displays of the MacBook Pro, which Apple claims is the best Retina display it has ever made, are a claimed 67% brighter than the most recent model, with a 67% higher contrast ratio and they produce 25% more colours.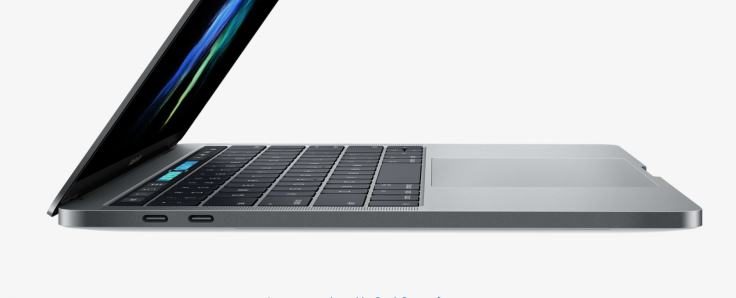 Apple sells the 13in Pro with an Intel Core i5 or optional i7 quad-core processor, while all versions of the 15in model have an i7 processor and can be specified with up to 2TB (2,000GB) of sold state storage and 2GB of video RAM. Compared to the last model, Apple says the 13in MacBook Pro is 103% faster at gaming and the 15in is 50% faster. Both versions run cooler and quieter, the company claims. Battery life is claimed to be 13 hours for both the 13in and 15in MacBooks.
MacBook Pro: Price and release date
UK prices start at £1,449 for a 13in MacBook Pro without the Touch Bar. The 13in version with Touch Bar starts at £1,749, while the 15in model with Touch Bar starts at £2,349. Pre-orders are open now and deliveries will begin in two to three weeks.