Millions of Shia pilgrims are gathering in Iraq's holy city of Karbala to mark Arbaeen, commemorating the end of a 40-day mourning period after the killing of Imam Hussein, the Prophet Muhammad's grandson, during a battle in 680 AD. His martyrdom is considered a defining event in the schism between Sunni and Shia Muslims.
Arbaeen is the world's largest annual gathering, with the number of pilgrims far exceeding the two million visitors who descend on Mecca for the Hajj. In 2015, Iraqi state-run media said more than 22 million pilgrims visited Karbala, setting a record for the annual pilgrimage, though that figure could not be independently verified.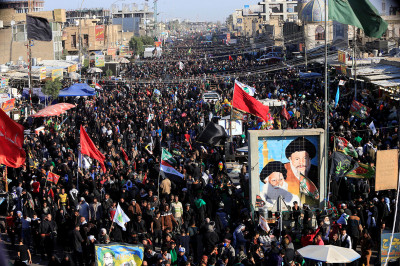 Shia Muslims have commonly been targeted by by hardline Sunni insurgents during the Arbaeen period. Iraqi authorities have adopted stringent security measures for the annual pilgrimage procession. Hundreds of thousands of Iraqi Shia pilgrims made the 80-kilometre (50 mile) trek on foot from Baghdad, escorted by armoured vehicles, soldiers and ambulances. More than a million pilgrims are expected to make the journey on foot from Iran.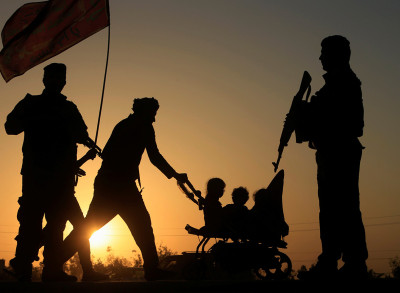 A suicide bomber killed six people near Karbala on Monday 14 November, at the start of the festival, an attack claimed by the hardline Sunni militants of Islamic State (Isis/Daesh), who regard Shia Muslims as apostates. Undeterred by the threat, huge crowds of Shia pilgrims have flocked to the shrines of Hussein and his half-brother Abbas in Karbala