These photos show what is left of the 3,000-year-old Assyrian city of Nimrud which was overrun and bulldozed two years ago by Islamic State (Isis/Daesh). Once the capital of an empire stretching across the ancient Middle East, Nimrud is one of several historic sites looted and ransacked by the militants when they seized large parts of northern Iraq two years ago.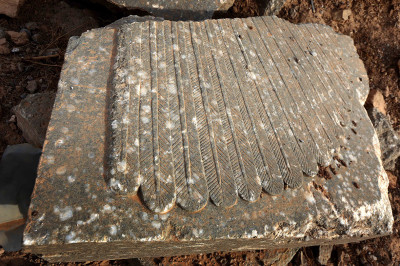 The militant group, whose ultra-hardline doctrine deems the country's pre-Islamic religious heritage idolatrous, released video footage last yearshowing its fighters bulldozing, drilling and blowing up murals and statues at Nimrud. Those statues included the famous winged bulls with human faces, known as lamassu, which stood at the entrances to the palace of Ashurnasirpal II, king of Assyria in the 9th century BC, and nearby temples on the site.
The old city of Nimrud, which formed the capital of an Assyrian empire reaching from Egypt to parts of modern-day Iran and Turkey, was recaptured by Iraqi troops, along with the nearby town of the same name. Nimrud lies on the eastern bank of the Tigris river, 30km (20 miles) south of Mosul where Iraqi soldiers are battling Islamic State for the largest city under the militants' control in Iraq and neighbouring Syria.
Iraq's deputy culture minister Qais Hussain Rasheed said that recapturing the remains of Iraq's rich heritage from the jihadists was a triumph for the whole world. "Liberation of ancient Iraqi archeological sites from the control of forces of dark and evil is a victory not only to Iraqis but for all humanity," he told Reuters.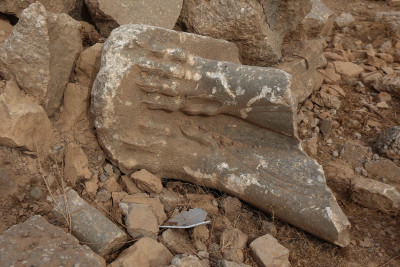 Nimrud was excavated in the 19th century by British archaeologist Austen Layard. Crime writer Agatha Christie and her husband Max Mallowan worked at Nimrud in the 1950s. Her experiences in Iraq, and journeys from Britain to the Middle East, formed the background to several of her novels including Murder on the Orient Express and Murder in Mesopotamia.
Islamic State still controls other Assyrian landmarks including the ruins of Nineveh and Khorsabad, as well as the 2,000-year-old desert city of Hatra, famed for its pillared temple which blended Greco-Roman and eastern architecture.