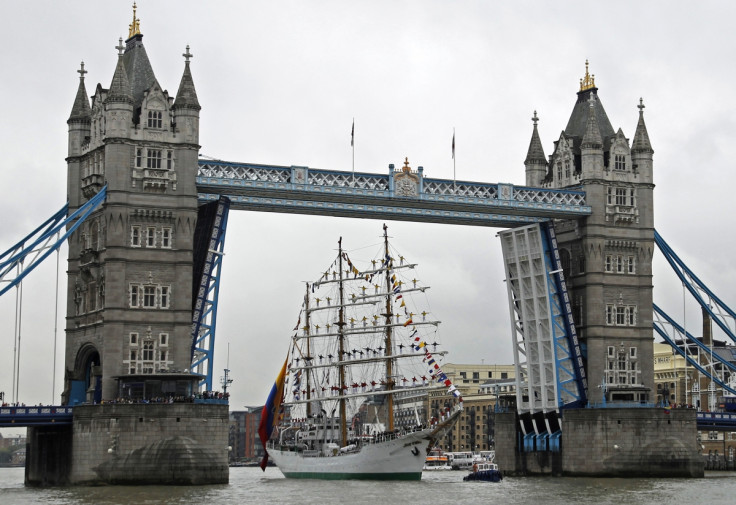 The flagship of the Colombian Navy, the ARC Gloria, has arrived in the capital for three days as part of a goodwill world tour.
The tall ship, among the largest in the world, has sailed up the Thames and docked at London Quay, West India Dock.
The naval vessel left its home port of Cartagena, Colombia, on 26 June and visited ports in Portugal, Germany and Holland. During her four-day stay in London the 'ARC Gloria' will be open to the public for free tours on board.
The ship has a crew of 150, including 67 final-year cadets from the Colombian Naval Academy and the flagship's mascot 'Black Pearl', a black labrador.
The ship arrived on the morning of the 3 September where it was met by the Colombian Ambassador to the UK.
As part of the Totally Thames Festival and Colombia day on Sunday 6 September, events on the ARC Gloria will include music, dancing and Colombian food tastings.
As it leaves the capital the bascules of Tower Bridge will raise to allow the three-masted ship to pass into the Upper Pool where 67 of its crew will balance on its masts singing the Colombian National Anthem.
The ship will be open for free public tours during the following times:
Thursday 3 September: 0800 to 1100 - 1400 to 1600
Friday 4 September 0900 to 1200 - 1300 to 2000
Saturday 5 September - Family Day, all welcome, Children activities 0900 to 1200 - 1300 to 2000
Sunday 6 September - 0900 –1300 at West India Dock