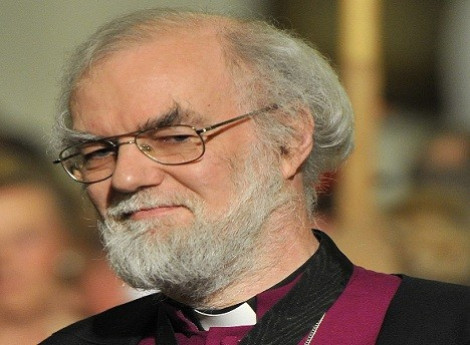 Archbishop of Canterbury Rowan Williams compared Occupy protesters outside St Paul's Cathedral to hapless TV priest, Father Ted.
Speaking at an event hosted by think-tank Theos, Williams said anti-capitalist demonstrators lacked clarity of purpose.
He called their message about capitalism in crisis "so general as to be undemanding".
"Rather like that episode in Father Ted where the priests demonstrate outside the cinema with a placard saying 'Down With This Sort of Thing'," said Archbishop Williams.
"I just feel we've got to do a bit better than that."
The 104th Archbishop of Canterbury was referring to an episode of Father Ted in which the eponymous main character is ordered by his tyrannical bishop to mount a protest against a new lewd film, 'The Passion of St Tibulus.'
Ted and his sidekick, Father Dougal, draw up placards with meaningless slogans such as 'Down with this sort of thing' and 'Careful now.'
But their efforts backfire, with the publicity turning St Tibulus into the most successful film in history on Craggy Island, where they live.
Writer Graham Linehan, who co-created Father Ted, expressed approval at the Archbishop's choice of comparison on Twitter.
The Occupy movement in London was condemned for lacking a clear list of demands and for creating a public nuisance.
Occupy protesters set up camp outside St Paul's in central London last October, after their attempts to enter the nearby stock exchange were blocked.
Church authorities became split over how to respond. The ensuing row led to the resignation of at least two senior members of the clergy from their posts.