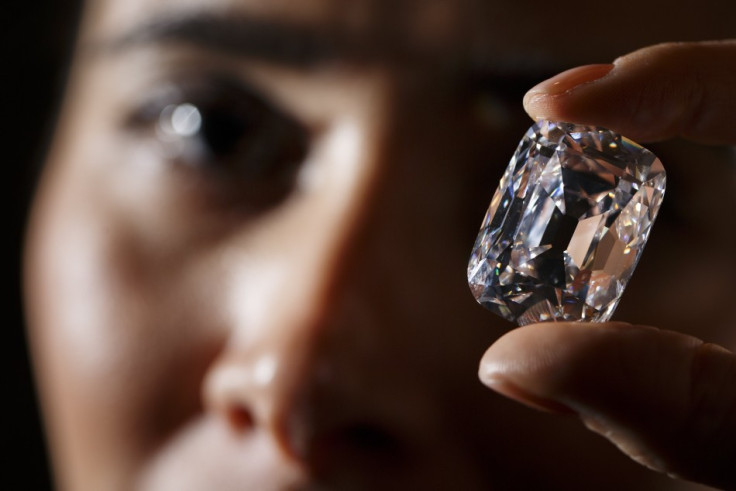 The internally flawless, 76.02-carat, Archduke Joseph diamond has been sold for 20.355m Swiss francs ($21.47m, £13.54m) including fees at the Christie's auction held on 13 November in Geneva, Switzerland.
The sale price was well above the expected $15m (£9.44m) and more than triple the price it fetched at a previous auction in November 1993, when it was sold for about $6.5m.
"It is a world record for a Golconda diamond and a world record price per carat for a colourless diamond," said Francois Curiel, director of the international jewellery department at Christie's, which conducted the auction.
The per-carat price of $282,545 beats the record held by the 34.98-carat, pear-shaped Beau Sancy diamond that was sold by Sotheby's for 9m francs (£5.99m) in May 2012.
Having been the star lot at Christie's semi-annual jewellery sale in Geneva, the colourless gem received an opening bid of 8m francs (£5.32m), but the price rose subsequently amid heated bidding over telephone. It was the largest perfect Golconda diamond to have appeared in an auction.
California-based jeweller Black, Starr & Frost was the seller of the stone from the renowned Golconda mines in India. The world-famous diamonds from the mines include the Dresden green, the blue Hope, the Koh-i-Noor in the Royal Collection at the Tower of London and the Regent, the centrepiece of the French Crown Jewels.
The auction winner wanted to remain anonymous and is reportedly going to donate the diamond to a museum for display.
Christie's, the auction house privately held by French billionaire Francois Pinault, sold 290 of 348 lots available at the semi-annual jewellery sale, with 19 lots receiving more than $1m. A brooch with a Ceylon sapphire weighing 60.44 carats, surrounded by diamonds, went for 1.7m francs (£1.13m), more than three times its estimate.
Nevertheless, a yellow diamond with 70.19 carats and a 12.16 carat pink diamond failed to sell because the final bids were below the reserve price.
On 14 November, rival Sotheby's is due to auction a 10.48-carat, rare fancy deep blue briolette diamond, with an expected price of up to $4.5m. It will also auction off a conch pearl, enamel and diamond Cartier bracelet that formerly belonged to Queen Victoria Eugenia of Spain.