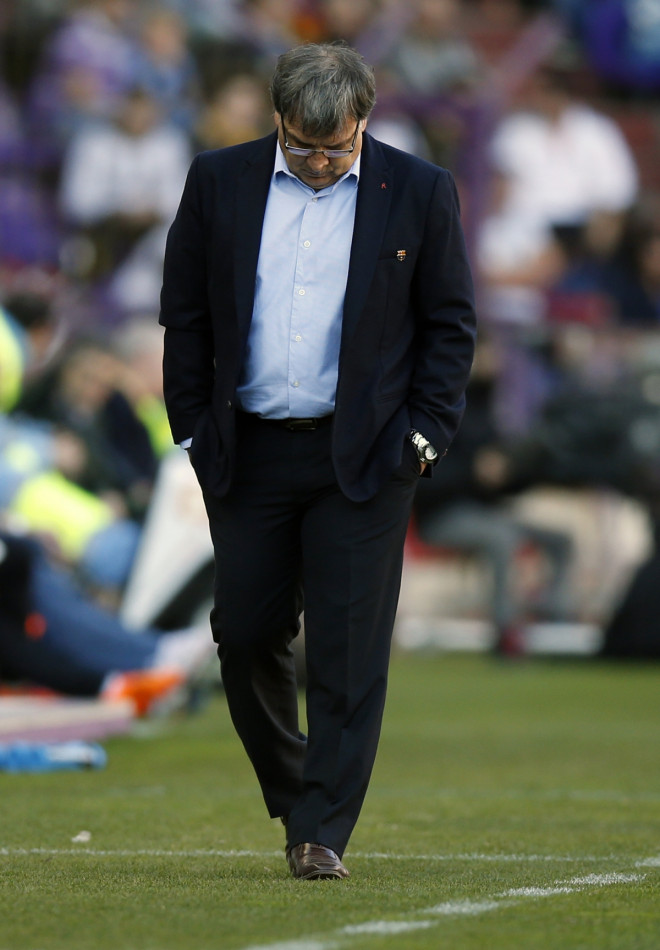 During the last five years, Barcelona have been embraced by the whole footballing universe as they achieved amazing results while playing a spectacular brand of football. But also it has generated jealousy, with millions eager to see the great side fall; when the giant falls, the noise is usually deafening.
Now it appears the end may finally be at hand. After the 1-0 defeat against Valladolid, we Spaniards can hardly hear ourselves think amidst the whoops of joy emanating from Madrid and several other places besides.
Barca lost everything at Jose Zorrilla stadium. They lost three points, which in the context of the Spanish league is crucial. They lost the trust of their fans, who are starting to realise that this is the beginning of the end of their cycle of dominance. And, worst of all, they are losing their own essence.
This year is Barcelona's worst for years, at least in La Liga. Their performance against Manchester City at the Etihad was probably their best of the season - often, they have been dire.
When a team do not function anymore, the most common recourse is to blame the coach. And thatis what is happening. But the reality is that Barcelona are abandoning what made them great, and it is not all down to Tata Martino. There is a president who has not been selected and the spiritual totem, Carles Puyol will soon be part of the past. Xavi Hernandez and Andres Iniesta are the leaders now but they do not seem able to stop the breakdown.
Negative figures are suddenly scarring the reputation of a team used to harvesting records and titles. This calendar year, Tata Martino's side have played 10 league matches that have left doubtful figures: five wins, two draws and three defeats. They have only been able to accumulate 17 of 30 points – not because Tata Martino has betrayed any style book, but because the players have not been able to trust themselves on the pitch.
Real Madrid, who were adrift of Barca at the turn of the year, have roared past them. El Clasico at the Santiago Bernabeu, on 23 March, could be the final nail in Barca's coffin.
Tata Martino is not Pep Guardiola. He is not Tito Vilanova, not even Frank Rijkaard. Just like David Moyes, his lack of trophy-winning pedigree appears to have left the players feeling disillusioned and complacent; what can they learn from a guy who has never come close to scaling the peaks they have reached consistently throughout their careers?
But it isn't all Martino's fault. Barca's transfer strategy is coming back to haunt them; why did Nou Camp officials lavish millions on Neymar but ignore the needs of the defence, which once again appears under-manned? Why did they fail to identify replacements for Puyol, Xavi and Iniesta for so long? And why did they ignore the wake-up call provided by Bayern Munich last season, before Martino even took charge? These are questions every Barca fan is asking right now.
Even though they are one step away of qualifying for the quarter-finals of the Champions League after beating Manchester City; even though they will contest the final Spanish Cup against Real Madrid; and even though it is a team with good players that can still produce good results, Barcelona do not seem capable of beating giants such as Bayern Munich. Perhaps not even Real Madrid.
We will see.