She is no stranger to the odd selfie, but ex-EastEnders actress Martine McCutcheon shocked her Instagram followers with a snap of herself in a skimpy thong.
The 41-year-old actress proved she still got it when it comes to oozing sex appeal, wowing her 141K followers with a bedroom selfie looking flawless with her trademark raven tresses falling loosely round her perfectly made-up face.
And when fans looked a little closer, it was made clear that Martine was lying on her front wearing a thong as her tattooed legs were up in the air.
She captioned the sexy shot: "After a long but fabulous day, it's a cheeky nighty night from me #thesavoyhotel #loveit❤️ "
Martine's fans went wild for the photo, with one person commenting: "Beautiful lady beautiful bum xx"
Another cooed: "Looking gorgeous @martinemccutcheon . That husband of yours is a lucky boy!!! @jackmcmanus1 x"
Others alluded to Martine's diet, with one writing: "Are you still doing the Cambridge Weight Plan @martinemccutcheon?"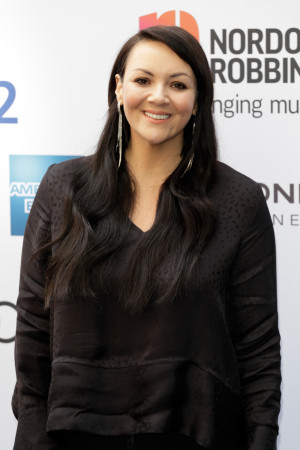 Some of McCutcheon's followers however felt the raunchy snap was inappropriate, with one observing: "this post is very inappropriate! !" while another simply proclaimed: "Cringe".
Another jibed: "Aren't you married?"
Other fans said that the out-of-character selfie was "perfect publicity" ahead of her upcoming album launch, since her new record Lost and Found is out tomorrow (11 August).
McCutcheon's new music offering features her comeback track, Say I'm Not Alone, and she recently admitted to Radio Times that she argued over her new music material with singer songwriter husband Jack McManus, who she has been married to since 2012.
She said: "When you are writing about things that are really personal, it can be quite intense and there have been slammed doors because it hasn't gone the way I wanted, or he's been frustrated with me because he thinks it should go in a certain direction."
McCutcheon shot to stardom after she was cast in BBC1 soap EastEnders as Tiffany Mitchell, but was written out of the series in 1998 to embark on a pop career, enjoying huge success with her No.1 single Perfect Moment.
She is probably best remembered for her role in 2003 romantic comedy, Love Actually, where she played tea lady Natalie who was Hugh Grant's romantic interest.