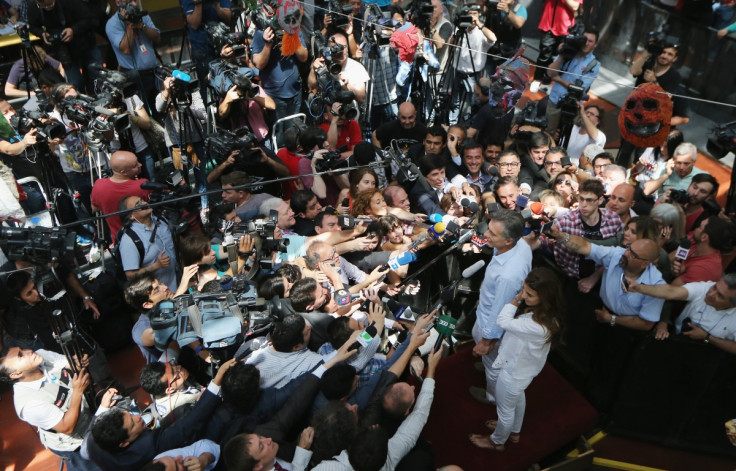 The pro-market Conservative leader Mauricio Macri is set to become Argentine president after securing a comfortable victory against Daniel Scioli in the presidential run-off. The right-wing mayor of Buenos Aires has pledged to lead the Latin American nation into a "marvellous" era.
The country's election committee said Macri won 53% of the votes against Scioli, who managed to garner 47%. Almost all of the votes have been counted.
The result was largely a surprise given the political climate two months ago when Scioli maintained strong support against Marci, a wealthy businessman hailing from a family of Italian migrants. Scioli, the ruling party's presidential candidate hand-picked by the outgoing President Cristina Fernandez de Kirchner, conceded defeat.
Speaking to a large group of jubilant supporters, the triumphant Macri promised to improve the economy and tackle drug trade. "Thank you for believing in me... I am here because you have decided," he said from his campaign headquarters.
"I also want to say to our Latin American brothers and our brothers around the world that we want to have good relationships with all countries. We want to work with everyone. We know that the Argentine people have much to bring to the world, and we hope to find an agenda of cooperation," Macri said in his victory speech.
Scioli, the governor of Buenos Aires province, defeated Macri in the first round of polls in October but did not garner an outright majority paving way for a presidential run-off. This was the first such run-off in Argentine history. Also, a centre-right leader is being voted to power for the first time in the last 12 years, a fact likely to echo across Latin America.
Besides promising closer ties with the US and staying way from Washington's adversaries, Marci has hinted at a less hostile position on Falkland Islands. Marci has also positioned himself as a pro-market leader, vowing a more business-friendly environment in the backdrop of Fernandez's failing leftist agenda.
Fernandez took over the presidency from her late-husband Nestor Kirchner in 2007 and has reached her two-term limit.