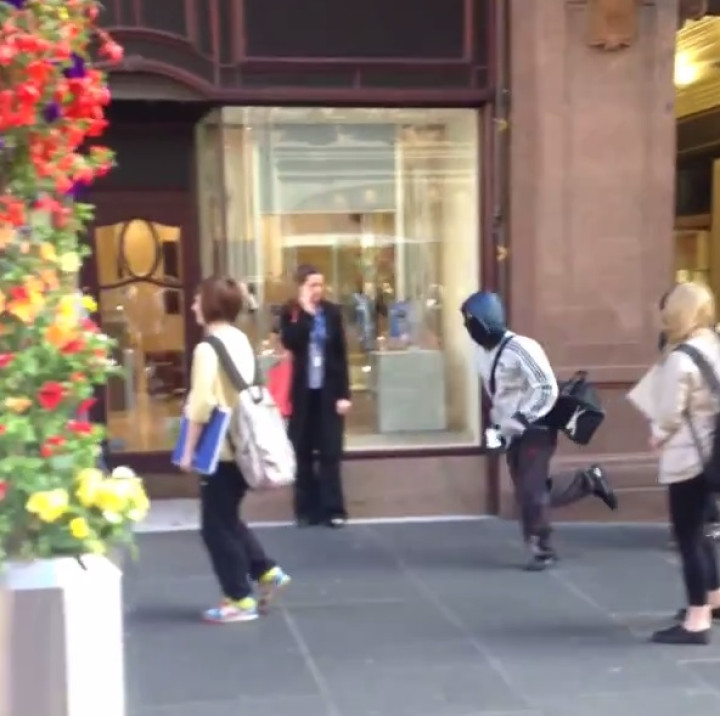 A daylight robbery of a Glasgow jewellers has been caught on video by stunned shoppers who were threatened with death by one of the assailants.
Four thieves armed with hammers and axes burst into four separate jewellers in the Argyll Aracade shopping mall on Wednesday at about 12:50pm.
The men failed in their attempts to break into three stores but managed to grab a small quantity of jewellery, thought to be watches, from Rox, where watches sell for up to £57,500.
As they fled, eyewitnesses reported hearing one of the men shout "I'll f****** kill you all".
Eyewitnesses reached for their phones and captured the panic as the robbers ran out of the arcade and up a lane at the side of the arcade's Buchanan Street entrance to make their getaway.
Security alarms can be heard blaring in the video as what appears to be smoke pours out of one of the arcade's shops.
A Greater Scotland police statement said: "The four suspects are described as 5ft 8 inches in height and of slim build. All were wearing dark clothing. It is believed that they made off in a white hatchback vehicle.
"A white Volkswagon Golf has been recovered in St James Road, Townhead, Glasgow and enquiries are also ongoing at that location to establish if it is the vehicle involved."
Anyone with information is asked to contact Police Scotland on 101. Alternatively, anonymous calls can be made to Crimstoppers on 0800 555 111
0800 555 111.