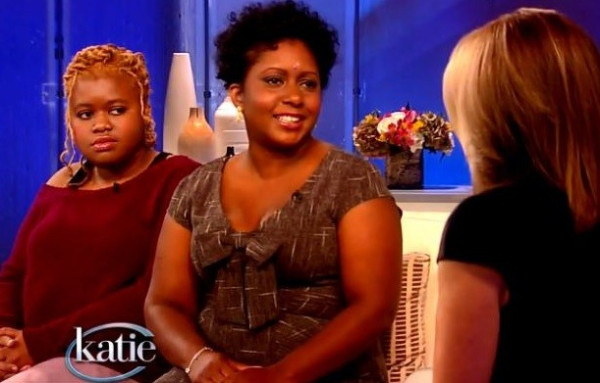 A New Jersey teenager has spoken out for the first time about her horror at discovering that her grandfather Aswad Ayinde was in fact her father.
Arie Kibibi, 19, from East Orange appeared on Katie Couric's show with her mother, Aziza Kibibi, 35, who detailed the two-decade nightmare of incest rape she endured at the hands of her father.
In August, Ayinde, best known for directing the music video for Fugees hit Killing Me Softly, was found guilty of raping and impregnating Kibibi five times and was sentenced to 50 years in prison for the sickening abuse.
The MTV award-winning director, also known as Charles McGill, will start serving the term only after he has finished his 40-year sentence for repeatedly raping another daughter, who also had a child by him.
Arie told Couric that throughout her childhood she constantly questioned the identity of her father, and her mother always insisted that he was someone her grandfather had approved of.
The secret finally came out years later.
"When I was 14, she told me," Arie said. "She said, 'Your father is my father'. I just froze."
Although she was shocked by her incestuous roots, she also felt a great sense of respect for her mother, who has showed extraordinary courage by rebuilding her life in the wake of her ordeal.
"When I found out what happened to my mother, I only felt more love for her," Arie said.
Kibibi, who grew up in Paterson, New Jersey, was just eight when she was first abused by her father.
"He said that all fathers did this with their daughters and that moms didn't understand. He told me I was his sex slave. He told me that this is what god put me here to do," she said of the campaign of sexual abuse.
Despite his convictions and overwhelming DNA evidence, Ayinde has maintained his innocence.
"I feel like I'm waiting for him to atone and apologise for what he has done, and to hear that he has no remorse, for him to think that all of these things didn't happen, especially with such proof and witnesses, I mean, I have children," Kibibi said.
"So for him to continue to try and say that he didn't do all these things to me, at the same time attempting to make me look like a liar, it really saddens me but there's nothing I can do about it. I leave him to God, ultimately."
Kibibi has continued to raise the children she produced with her father, along with another son from a separate relationship.
Her 16-year-old daughter suffers from a metabolic disorder, a result of inbreeding and another child died at the age of nine from a genetic disorder.
READ
Fugees' Director Aswad Ayinde Raped Me: Our Mother Betrayed Us to a Sex Megalomaniac