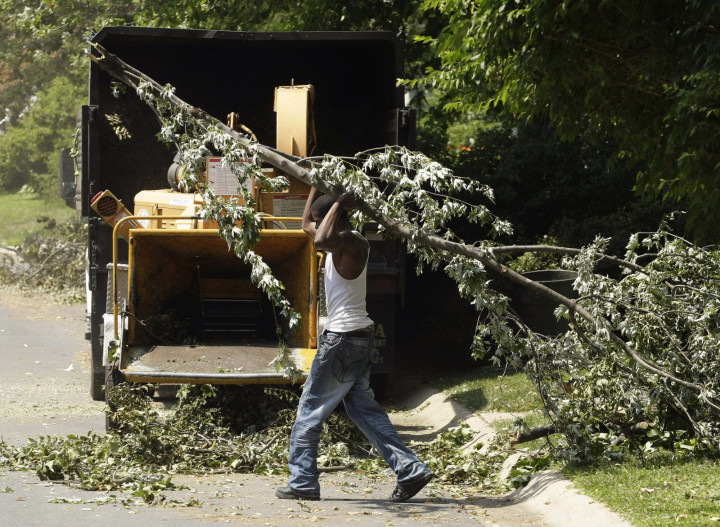 A landscaper died after an horrific accident in which he tripped and fell head first into a wood chipper, according to Florida Police.
Eye witnesses say the victim lost his footing and fell into the wood chipper. The Chandler Fire Department confirmed he was decapitated.
According to police, the unnamed man was standing on top of the wood chipper and was trimming trees when the accident happened.
"It's the type of wood chipper where the chute end actually will push the debris into the back of the truck so it can handle large branches," Detective Seth Tyler told KYTV. "It's extremely powerful."
Police say the man was part of a small landscaping crew using an industrial-sized wood chipper at the dealership. Phoenix Trim-a-Tree, LLC., confirmed the man was one of their workers.
Local news footage from the scene showed the portable wood chipper parked behind a truck with a logo for Phoenix Trim-A-Tree, a tree pruning service.
The victim's two sons were also part of the landscaping crew, and they witnessed their father die an horrific death.
"This situation is very terrible, yes," said family member Brenda Zapata. "We're never going to see his smiling face one more time."
Family members said the landscaper had worked for the company for years and had a great deal of experience. Investigators said it appeared to be a terrible, tragic accident.
"He was just a happy, happy man," Zapata said. "He loved his family."
Wood chipper accidents are rare but not uncommon. A Florida landscaper died in June after police say his entire body went through a wood chipper in a workplace accident.
When police arrived at the scene, it was clear the man was already dead, Davie police spokesman Dale Engle told HLN.
The victim, 42-year-old Hernan Gutierrez, apparently fell into the wood chipper.
Investigators told HLN they do not suspect foul play, but added they are investigating the case to determine what happened.
"You hear about this stuff in the movies, but then all of the sudden it happens right outside your door step," Davie resident Joseph Horta told CNN affiliate WBFS-TV. "All the sudden I hear all these sirens and I look outside and I see some piles of blood. It was horrifying."
"The details are too gory," Engle told HLN when asked to describe the recovery process of the victim's remains.
Between 1992 and 2002, 31 people were killed in wood chipper accidents, according to a report by the Journal of the American Medical Association.
Watch the video calling for more safety and care when handling a wood chipper